(August 2021, USA) – Platinum engagement rings became very popular beginning in the late 1940's with celebrities and royalty choosing the rare metal to openly display their relationship status. Queen Elizabeth II, Elizabeth Taylor, Grace Kelly, and Audrey Hepburn's dazzling platinum engagement rings are still as memorable nowadays as they were years ago.
Many of today's most famous celebrities continue to opt for platinum engagement rings, including Beyoncé, Jennifer Lopez, Miranda Kerr, Ariana Grande, Priyanka Chopra, Anne Hathaway, Emily Blunt, Natalie Portman, Jessica Biel, Jennifer Lawrence, Nicole Kidman, Mila Kunis, Brie Larson, and Sarah Hyland.
Why is platinum still so popular for engagement rings?
Platinum is a rare, naturally white metal that requires no additional plating, unlike white gold. It's also hypoallergenic, and one of the strongest natural materials on the planet, so it can withstand everyday wear with ease and still last for years to come.
Platinum Guild International highlights some of the most iconic platinum engagement rings of modern times. More platinum engagement ring styles and information can be found on Instagram @Platinum_Jewelry.
Beyoncé has been wearing this emerald-cut design by Lorraine Schwartz for over a decade. This reportedly flawless center diamond is 24-carats and features a split shank band, all set in platinum.
Similar style ring by Ritani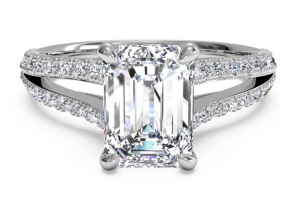 Miranda Kerr's timeless platinum ring features a brilliant solitaire diamond flanked by tapered baguettes.
Similar style ring by Brilliant Earth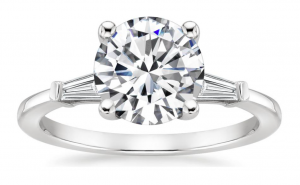 Jennifer Lopez's platinum engagement ring from on-again boyfriend Ben Affleck back in the "Bennifer" days features a 6.1-carat radiant-cut fancy intense pink diamond with two trapezoid white diamond sides stones set in platinum from Harry Winston.
Similar style ring by Kwiat