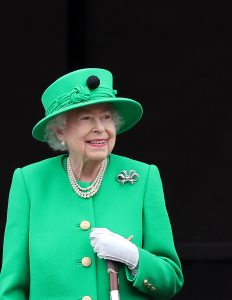 Photo by Chris Jackson/Getty Images
Throughout the Platinum Jubilee, Queen Elizabeth II fittingly wore elaborate brooches that were reportedly set in the world's most precious metal, platinum. Whether it was her vintage Diamond Bow brooch from the 1850s that still looks spectacular or the new brooch that was spotted at the Beacon Lighting Ceremony, Queen Elizabeth made a statement in unique designs that showcase platinum's beauty and durability.
Platinum Guild International predicts that platinum brooches will make a comeback this year with celebrities and fashion influencers opting to wear intricate designs. Since platinum is a naturally white metal (unlike white gold), it will make important diamonds sparkle even brighter. And platinum is one of the strongest natural materials on the planet, so it can withstand everyday wear with ease and still last for years to come.