March 29, 2022 (New York, New York) – As an organization representing platinum producers committed to abiding by ethical, social, and environmental standards, PGI recognizes the importance of incorporating ESG into business practices. In an effort to gain a deeper understanding of the fine jewelry consumer mindset when it comes to ESG, PGI USA commissioned a study on the topic as it relates to fine jewelry purchasing. The goal of this research was to determine which ESG factors are most important to the fine jewelry consumer and to explore the impact of these factors.
The research was based on a December 2021 online survey of 500 US consumers who purchased or received a fine jewelry piece worth $1K+ during the prior two years. The respondents were evenly split between males and females, 18-65 years of age, and had household incomes of $50K+. Approximately one-third of respondents had given or received a piece of platinum jewelry in the past 2 years; purchasers spent $1,500 on average, with necklaces and rings being the most popular pieces.
The study focused on four key areas of evaluation: the importance of ESG aspects; the fit of sustainability aspects with fine jewelry; the impact on purchase decision; and the willingness to pay more for a sustainable piece of jewelry.
The research yielded four key findings:
Consumers' Understanding of Definition of Sustainability Varies
Buzz words such as environmentally responsible, sustainable sourcing and traceability fit best when consumers think of sustainability.  However, human rights and fair labor practices are most likely to sway their purchase decision.

Sustainability is Ranked Fourth Among Important Factors Influencing Consumers' Fine Jewelry Selection
Although sustainability is important to a good proportion of fine jewelry consumers, it is not nearly as influential on their selection as quality, design and metal used. While many consumers cite that sustainability is about jewelry being produced responsibly, environmentally friendly practices and fair labor laws, some also cite that it relates to the durability and quality of the piece, showcasing an unclear definition and understanding of the word among consumers.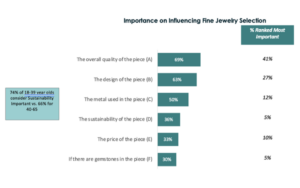 Young Consumers Lead the Conversations with Jeweler about Sustainability
About two in five respondents had conversations with their jeweler about sustainability. These discussions are largely driven by those 18-39, and topics focus on how the piece was made, where the materials were sourced and the quality/durability of the piece.

Consumers are Willing to Pay More for Sustainability Aspects
Although consumers' understanding of the definition of sustainability varies, most consumers state that they would pay an average of 15-20% more for all sustainable aspects, particularly environmentally responsible, human rights and fair labor practices.

"We feel it is important for our industry to make a continued commitment toward sustainable practices in all levels of business", shared PGI USA president, Jenny Luker. "In order to be highly effective in this space and provide value to our partners and the industry at large, we felt it was necessary to conduct a study that would show the baseline of what sustainability actually means to consumers, allowing our future communications to be more effectively received."
ESG continues to be an ongoing focus for PGI USA, as demonstrated by the organization's recent sponsoring of the Women's Jewelry Association Foundation Responsible Business Education grant, which provided for two members to enroll in a top-rated sustainability course at New York University's Stern School of Business Executive Education. ESG will continue to be a common focus for the two organizations, as they collaborate once again on a webinar to be virtually presented on Thursday, April 14th, during which the Senior Research Manager from 360 Market Reach will take attendees through the key findings of PGI's latest ESG study results. To register for the webinar, please visit WJA's website.