Platinum Guild International (PGI) China made a grand appearance at the third China International Consumer Products Expo (CIPCE), held in Haikou, the capital of south China's Hainan province, from April 11-15, 2023. PGI has been supportive of CICPE, also known as Haikou Expo, in past years as well, and this year it was deeply involved with the event by organising themed activities and events that showcased platinum jewellery. By virtue of the opportunities offered by these events, PGI hopes to become the best partner for industry players like CICPE, which is jointly organised by the Trade Development Bureau of the Ministry of Commerce and Hainan Provincial Bureau of International Economic Development, to help grow their businesses together.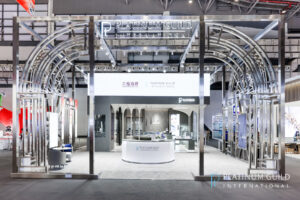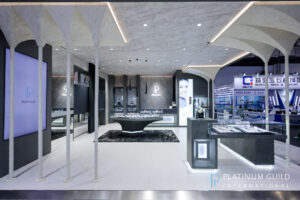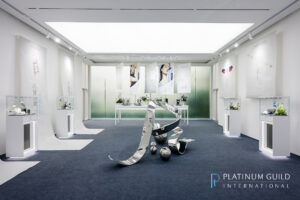 PGI's booth at 2023 CICPE
Synergy from dual exhibitions in Haikou & Sanya
PGI attended CICPE for the third time, showcasing its latest platinum jewellery branded collections to global consumers through dual exhibitions in Haikou and Sanya. The exhibitions complemented each other to showcase the enduring and timeless charm of platinum jewellery and convey the meaning behind the brand to young consumers in an aesthetic way. The main booth in Haikou, which was decorated in romantic and luxurious shades of grey and platinum silver, featured products from the 2023 Pt Moment® collection as well as selected antique platinum jewellery pieces, allowing global consumers to experience their style and beauty up close. The exhibition in Sanya was focused on design interpretation, with exhibits and displays created in a rich artistic atmosphere, showcasing the innovative design and emotional appeal of platinum.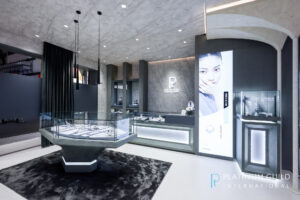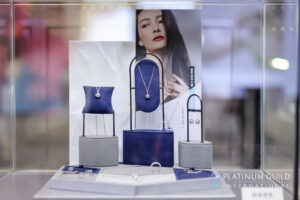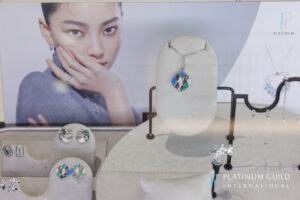 Pt Moment 2023 collection
A century of artistic glory illustrated by antique and modern platinum jewellery
PGI continues to promote the 2023 Pt Moment collection using the slogan "Tenacity Powered Elegance Emboldened by Platinum", which celebrates the resilience and gentleness of today's women. The collection innovatively integrates new technologies such as 3D electroforming and paired enamel, gems and other materials with its pieces to meet women's needs in diverse scenarios. Apart from the new branded collection, masterpieces of vintage platinum jewellery from LUEUR were displayed on the site as the most dedicated area, inviting visitors to encounter the glory of platinum.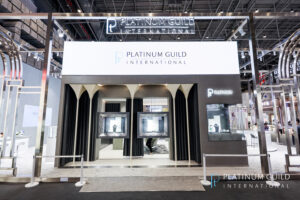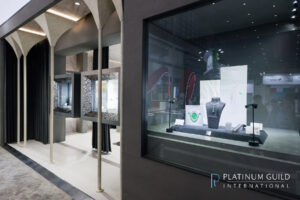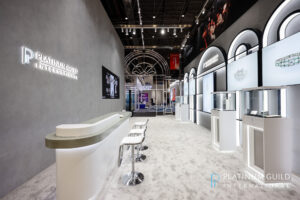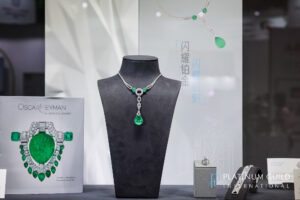 Exhibition area for antique jewellery
Jointly promoting industry integration and collaboration
With the deep and wide-ranging industry communication platform provided by CICPE, PGI has established an effective communication channel with its partners, expanding the influence of platinum jewellery on young consumers. On April 11, Pui P. Poon, managing director of PGI China, delivered a speech at the Wushang Group's Strategic Cooperation Ceremony. Ms. Poon affirmed the new integrated development model, from platinum design and manufacturing to sales that both parties jointly built over the past few years, which has received positive feedback from the consumer market. She also expressed hopes for more creative sparks to shine in future cooperation and continuously push the frontiers of the platinum jewellery industry.
On April 12, PGI and one of its strategic partners, Lukfook Jewellery, participated in the debut live streaming hosted by People's Daily, showcasing the new Pt Moment collection and the 'DiaPure x Pt' diamond collection. In the afternoon, PGI and Lukfook co-hosted the launch event of the 2023 'DiaPure x Pt' collection, inviting global consumers to witness the extraordinary charm of the new collection and revealing to industry partners the endless potential of platinum.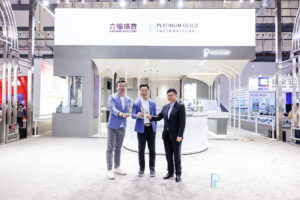 Launch event of 'DiaPure x Pt' collection
Her strength, her way: Blossoming together with platinum
With the resurgence of the platinum industry, PGI has taken the role of premier innovator in driving branding strategy across the platinum jewellery industry, which is key in bolstering the industry's confidence. Resilient and strong consumption by female consumers plays a key role in this. During CICPE, Ms. Poon was invited to speak at the Women's Fashion Consumption Forum, where she mentioned that PGI has in-depth insights into the market opportunities of the "self-indulgence" trend among women consumers, and hopes to help partners in product marketing through branded collection such as Pt Moment. She emphasised the potential of these products to show a new and profound meaning to women's sense of self-worth.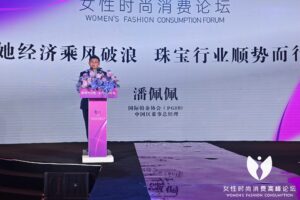 Pui P. Poon, managing director of PGI China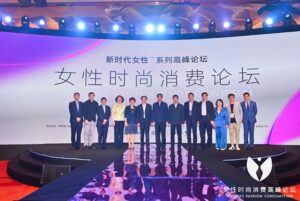 Delegates at the Women's Fashion Consumption Forum
Embrace design and explore co-creation
On April 13, PGI attended the second Design+ Forum (Sanya) and Jewellery Culture & Technology Exhibition. Fashion design experts and scholars worldwide gathered onsite to witness how the dynamic power of design has reinforced the perception of future trends in artistic jewellery design. Alex Ye, director of trade marketing and development of PGI China, also shared PGI's new insight on the power of design in his speech. He mentioned the Pt® Edition co-creation programme jointly launched with Ontimeshow and LOHAS, a subsidiary of Meta Media Group. The programme aims to provide brands interested in working with PGI with multifaceted support from design and development to promotion and retail. PGI has been experimenting with new technologies and designs and hopes to lead industry partners in constantly innovating and enriching the meaning of platinum jewellery, to establish strong emotional connections between platinum and the life of contemporary consumers.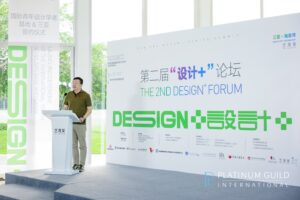 Alex Ye, director of trade marketing and development of PGI China at the Design+ Forum