The brand celebrates its three year anniversary with a brand film featuring ambassador Nanase Nishino
Platinum Guild International K.K., the marketing organisation promoting platinum jewellery in Japan, is pleased to announce the launch of new products for Platinum Woman on November 1, 2022. The platinum jewellery brand was launched in 2019 as a collaboration with leading Japanese jewellery retailers 4℃, Vendome Aoyama, and Ginza Tanaka, later welcoming Ponte Vecchio in 2021.
A total of 19 platinum jewellery products, mostly priced under JPY 100,000, are added to the brand's lineup by the four retail partners. Platinum is resistant to elements, including sweat and minerals in hot springs, and maintains its quality and white brilliance, making it the perfect, sustainable jewellery choice for special occasions as well as daily use. The Platinum Woman products are available through partner companies' online stores.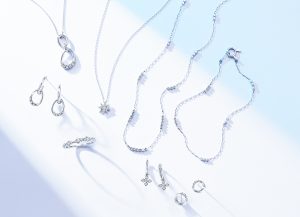 In parallel with the new product launch, a new brand film featuring actress Nanase Nishino is also released. The film tells the story of a modern woman in her twenties wearing Platinum Woman while being true to herself as she lives her daily life. A special interview with Nishino and a "behind the scenes" video about the brand film are available on the official website and social network channels.
To celebrate the brand's third anniversary, the brand will provide a special giveaway of a jewellery pouch to all customers purchasing Platinum Woman products in any of the retailers' online stores between November 1 and December 31.
Pure, fine and timeless, platinum accompanies the beauty of women who stay true to themselves. In an age of growing respect for individuality and self-worth, the brand encourages the empowerment of women to find their own way of life through platinum jewellery that they can wear proudly, at any time of day and for any occasion.
About the collection's design concepts
The Platinum Woman collection is based on design concepts that express the woman's inner sparkle through platinum, motivate her to forge ahead, and remind her of who she has always aspired to be.
Characterised by sophisticated designs that are neither too assertive nor too simple, this is a collection of high-value jewellery that completes one's look for everyday or special occasions, and can be used for many years to come.
For each purchase of a Platinum Woman collection item, JPY 500 will be donated to an authorised NPO Katariba. PGI Japan and its retailer partners are working together to deliver a brighter future for children.