Platinum Guild International K.K. (PGI Japan) announced the launch of 14 new products under its new platinum jewellery brand, Platinum Woman, as a collaboration with leading Japanese jewellery brands 4℃, Vendome Aoyama, Ginza Tanaka and Ponte Vecchio.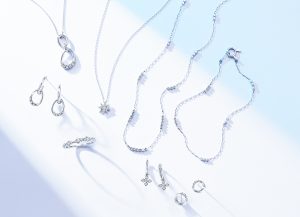 Platinum is sweat- and water-resistant, and its white brilliance remains unchanged throughout the summer months without the worry of tarnishing. It can be used not only for special occasions, but also for everyday use, sustaining its high-quality brilliance for many years to come.
The Platinum Woman products are mostly priced at 100,000 yen or less and are available for purchase at the companies' online stores.
To commemorate the launch of the new products, a special video is streamed on social network platforms. Titled "Nanase Nishino's Platinum Consultation Room",  it features the brand ambassador giving consultation to women of her generation who have questions about platinum.
In addition, an Instagram campaign will be held to win the platinum necklace worn by Nishino in the advertisement. 
‧"Nanase Nishino's Platinum Consultation Room" featuring brand ambassador Nanase Nishino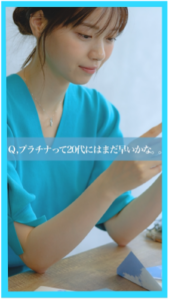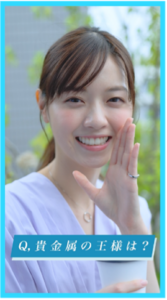 The brand ambassador answers questions such as "What is the difference between platinum and silver?" and "Is platinum too early for women in their 20s?" in short videos available for viewing on Instagram and YouTube.
Pure, fine and timeless, platinum accompanies the beauty of women who stay true to themselves. In an age of growing respect for individuality and self-worth, Platinum Woman encourages the empowerment of women to find their own way of life through platinum jewellery that they can wear proudly, at any time of day and for any occasion.
‧About the collection's design concepts
The Platinum Woman collection is based on the design concept that expresses the woman's inner sparkle through platinum, motivates her to forge ahead, and reminds her of who she has always aspired to be.
Characterised by sophisticated designs that are neither too assertive nor too simple, this is a collection of high-value jewellery that completes one's look for everyday or special occasions, and can be used for many years to come. Find more about Platinum Woman's new products and campaign here: https://www.preciousplatinum.jp/platinum-woman/
For each purchase of a Platinum Woman collection item, JPY 500 will be donated to an authorised NPO Katariba. Platinum Guild International and its retailers are working together to deliver a brighter future for children.