"Tenacity Powered Elegance Emboldened by Platinum" 
PGI China Launched Pt Moment®️ 2023 New Products in Shenzhen
On 27-28 March 2023, Platinum Guild International (PGI) China successfully organised the 2023 Pt Moment®️ New Product Launch Conference in Shenzhen. Partners from the platinum jewellery industry, representatives of retail brands and leaders of manufacturers gathered at the event to jointly witness the launch of Pt Moment 2023 new products. Guests also engaged in deep discussions on various topics, including innovation design and revolutionary techniques for platinum jewellery-making, brand enhancements, product iteration, content marketing and changing trends, all with the aim of jointly mapping out the future of the platinum jewellery market.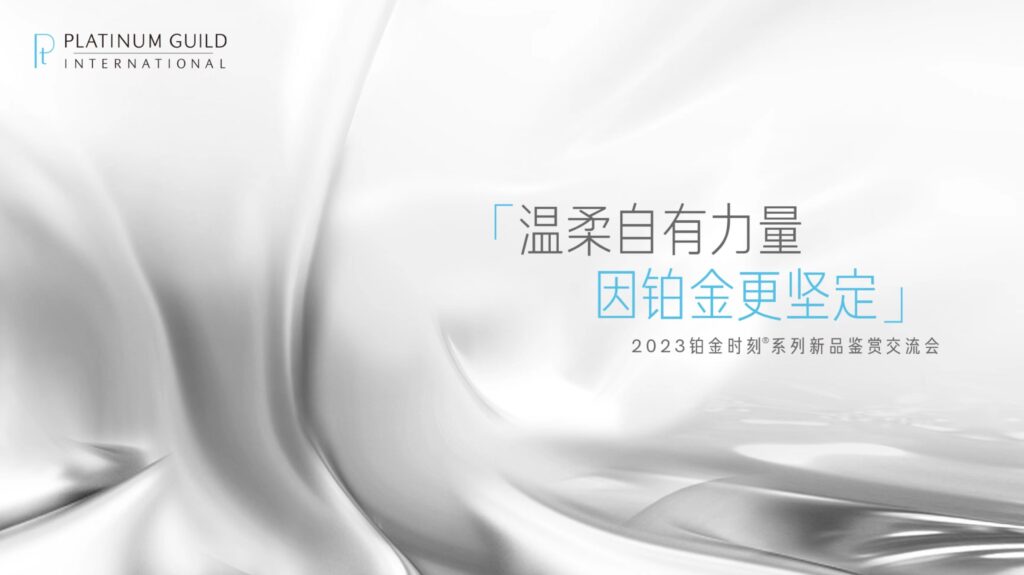 Pt Moment 2023 Product Showcase & Sharing Seminar
The Pt Moment 2023 Product Showcase & Sharing Seminar, organised by PGI, officially kick-started the conference on 27 March at the Mandarin Oriental Hotel in Shenzhen. In continuation of the theme of "Tenacity Powered Elegance, Emboldened by Platinum", guests were invited to an artistic banquet where they could appreciate new platinum products from the Pt Moment 2023 collection. Huw Daniel, Chief Executive Officer of PGI, along with attending guests, looked back on PGI's achievements over the past year, while looking forward to new opportunities for industry revolution and a new growth direction for the industry.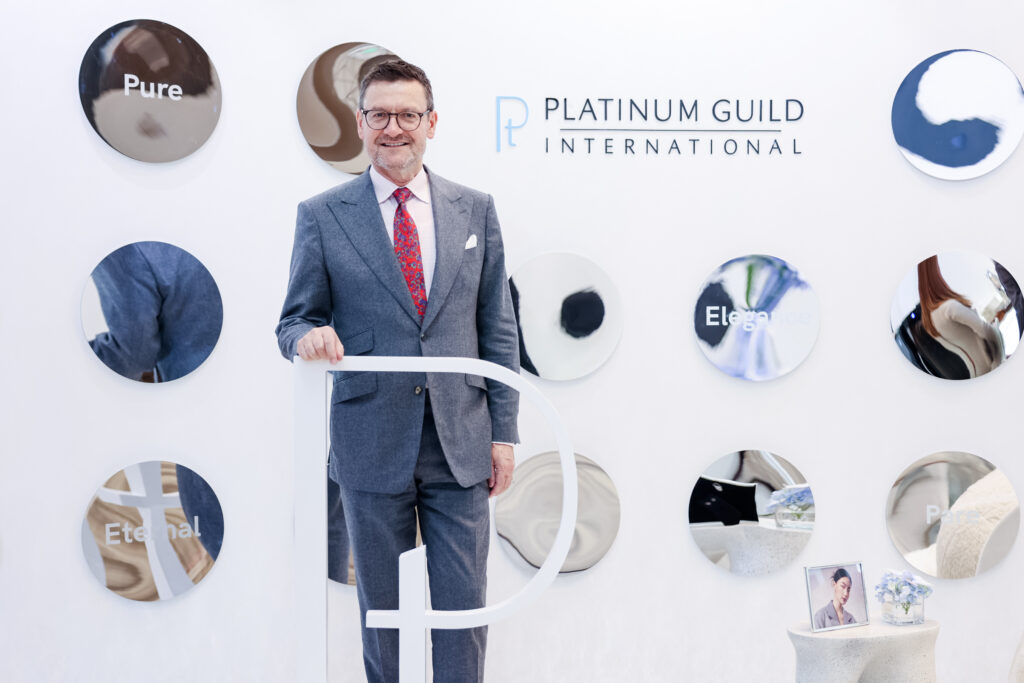 Mr. Huw Daniel, Chief Executive Officer of PGI
The overall design concept of the conference site was based on Baroque-style arched corridors paired with layered cloth art, overlaid with water light refraction, to bring forth elements of "softness, gentleness, and relaxation". Delicate, soft and milky-white tones in low saturation were seamlessly weaved into all elements in the venue, lending an elegant and warm ambience to the venue. The airport-themed experiential site allowed guests to "launch flying mode with one button" and be immersed in a holiday atmosphere. The creative and interactive "OOTD" site portrayed the daily pairings that platinum jewellery enhanced via diversified outfits through the week. In addition, the online-offline experiential space for the Pt Moment 2023 collection made a dramatic debut at the event. As a brand-new purchasing platform for retail partners, the online experiential space comes equipped with 3D virtual panorama techniques, allowing products to be dynamically viewed through different angles and in various scenarios, bringing to life a boundless platinum experience.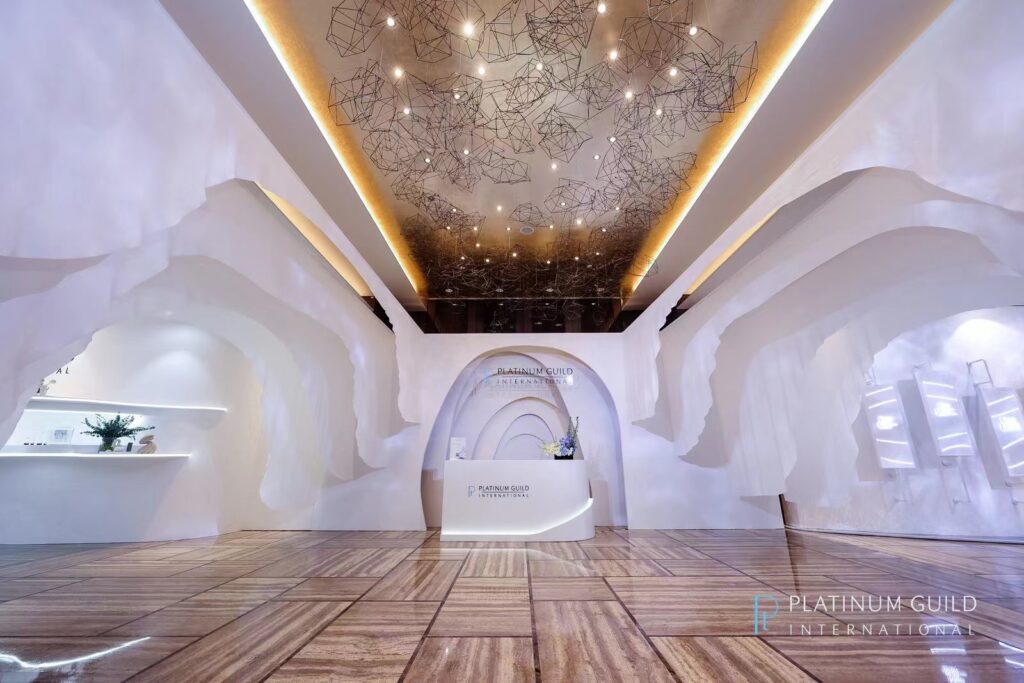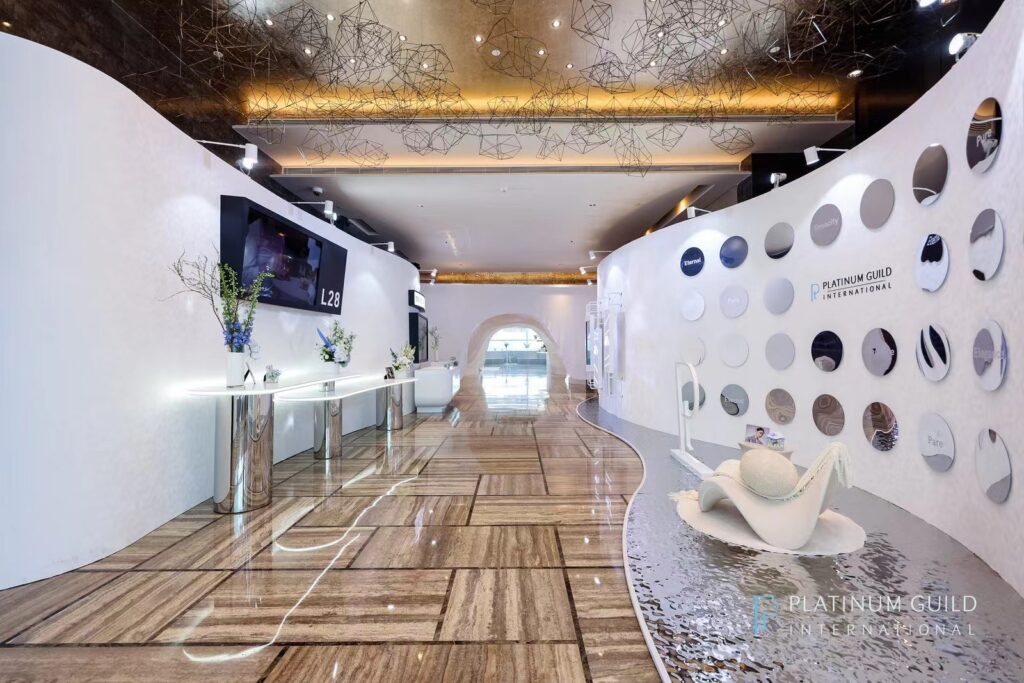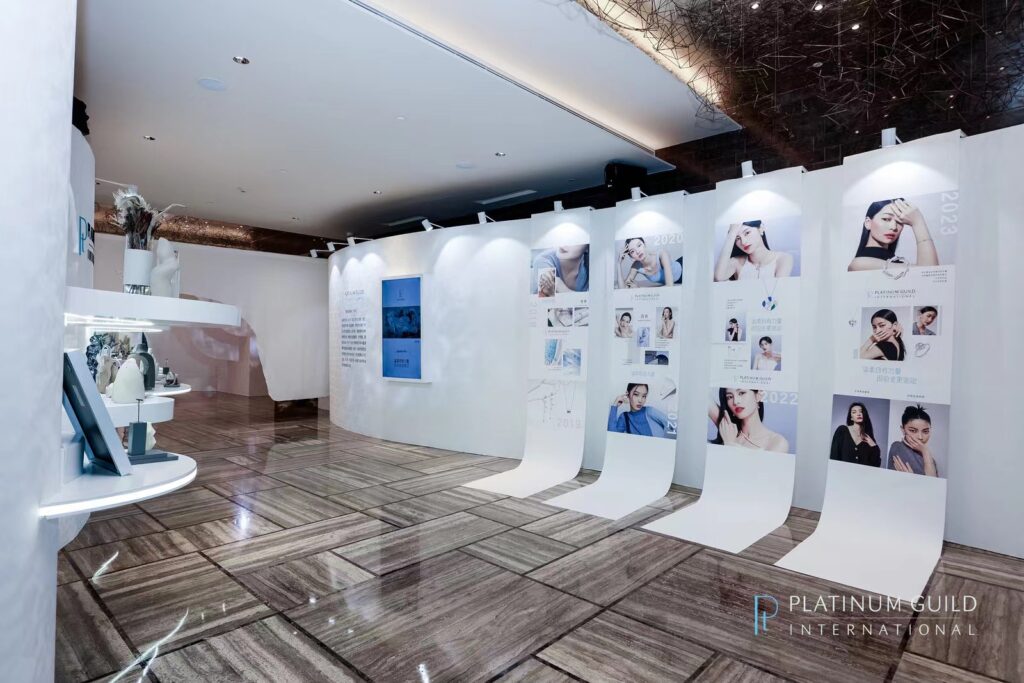 Pt Moment 2023 Product Showcase & Sharing Seminar Venue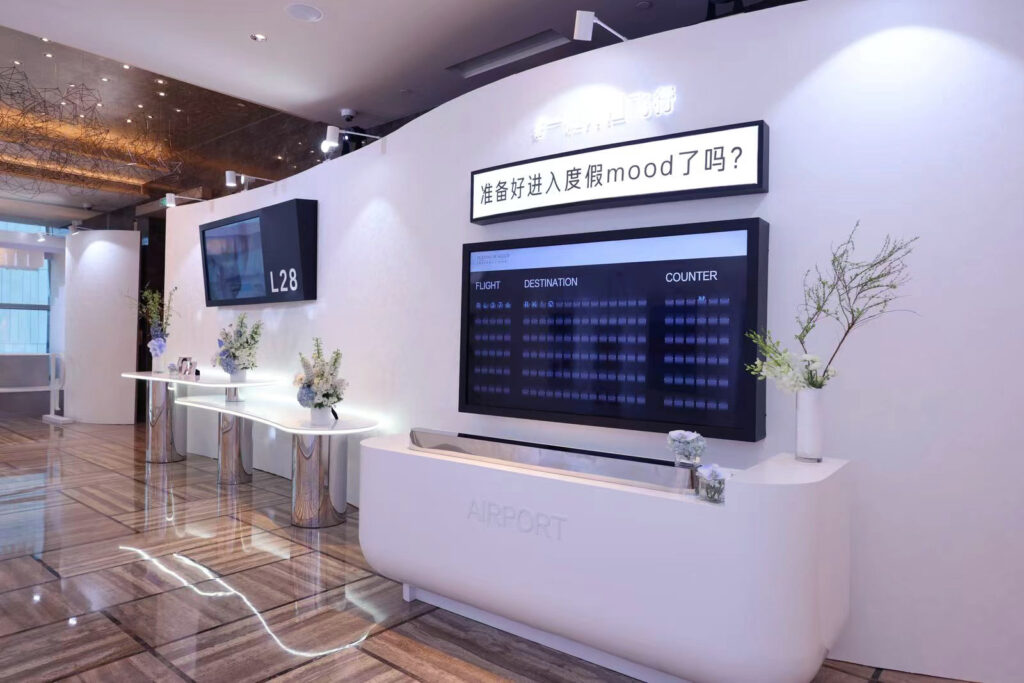 Airport-themed experiential site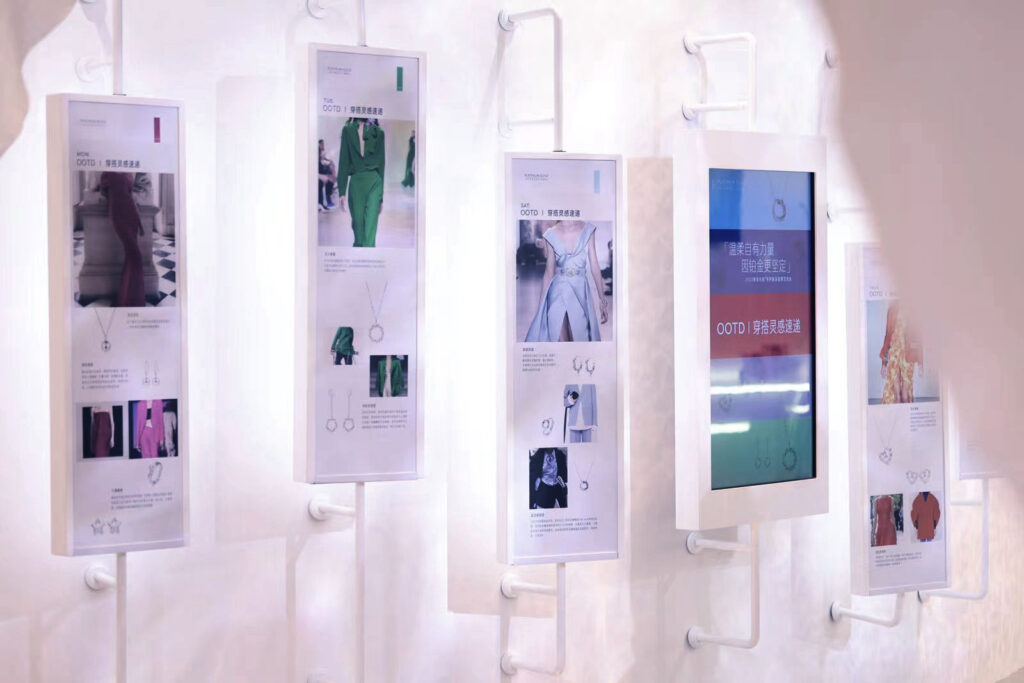 "OOTD" site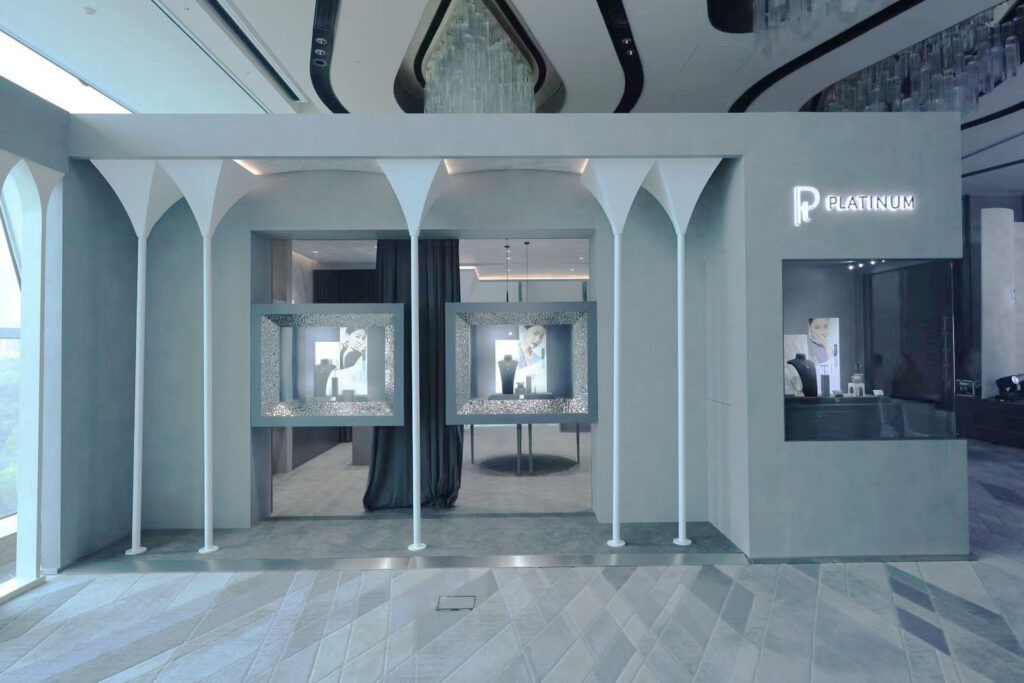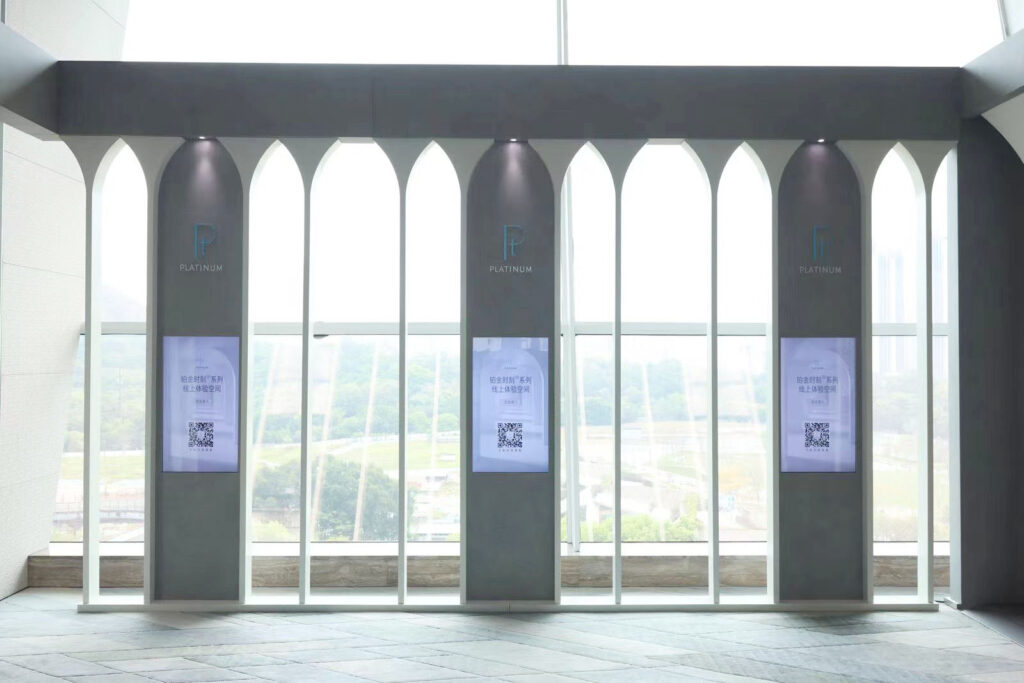 Online-offline experiential space for Pt Moment 2023 collection
The brand-new Pt Moment collection builds on the product theme positioning of "Tenacity Powered Elegance, Emboldened by Platinum" in combination with modern aesthetics in reinventing platinum jewellery aesthetics. The exquisite workmanship and mesmerising charm take one's breath away. With "creative deconstruction instead of cookie-cutter designs" as the basis, new products portray the "inner concordant gentleness and forward-looking tenacity" of today's women and their free will of expression, thereby leaving a unique and distinctive mark on the market.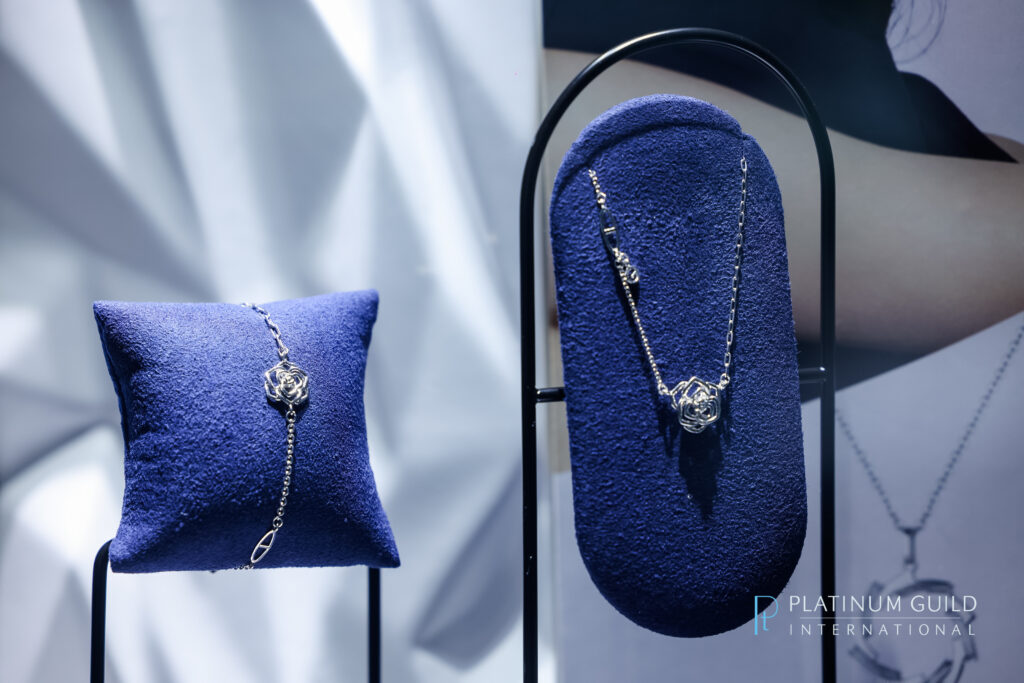 Pt Moment Collection – "Freedom Moment"
With flowers as the central idea, this design uses lines to craft out beautiful styles. This is not a fragile flower that can be casually picked, but a gentle flower with subtle strength symbolised by the attributes of platinum.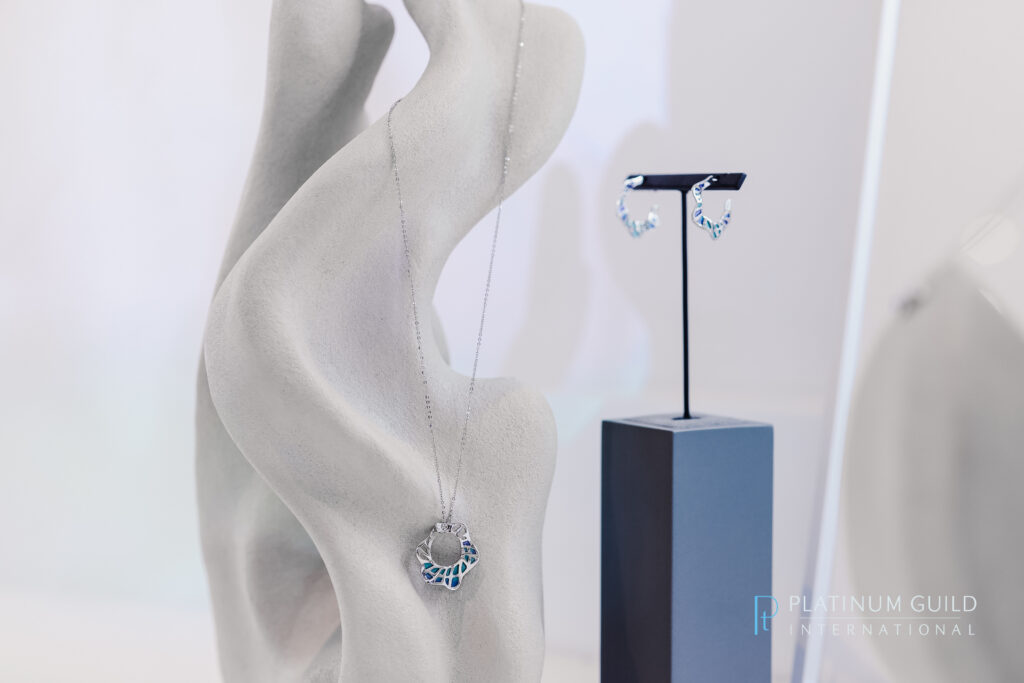 Pt Moment Collection – "Timeless Moment"
Inspired by the rise and fall of waves that are at times gentle and at other times gushing, enamelling techniques bring forth a translucent quality. Tones of blue intersect, bringing life to the elegant piece and forging a unique expression of the gentle-yet-tenacious characteristics of women through design deconstruction and reinvention.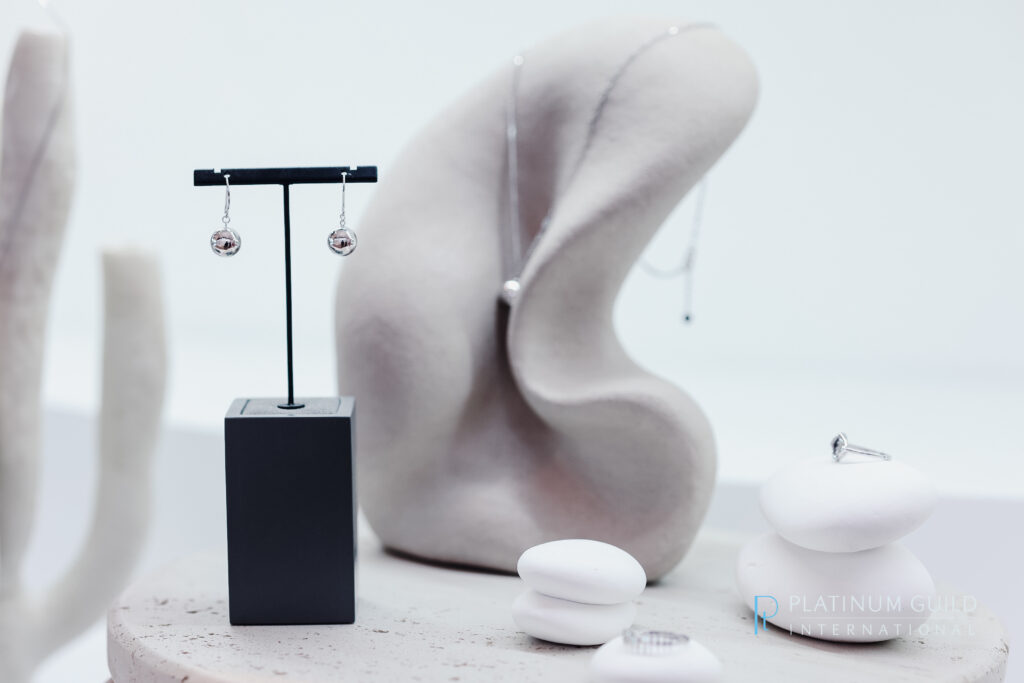 Pt Moment Collection – "Timeless Moment"
With the sphere as a design inspiration, it uses the natural fullness of the shape to fill in the blanks and bring limitless potential for imagination. Wearers can freely pair it according to their own style and be a trend-setter in their own way.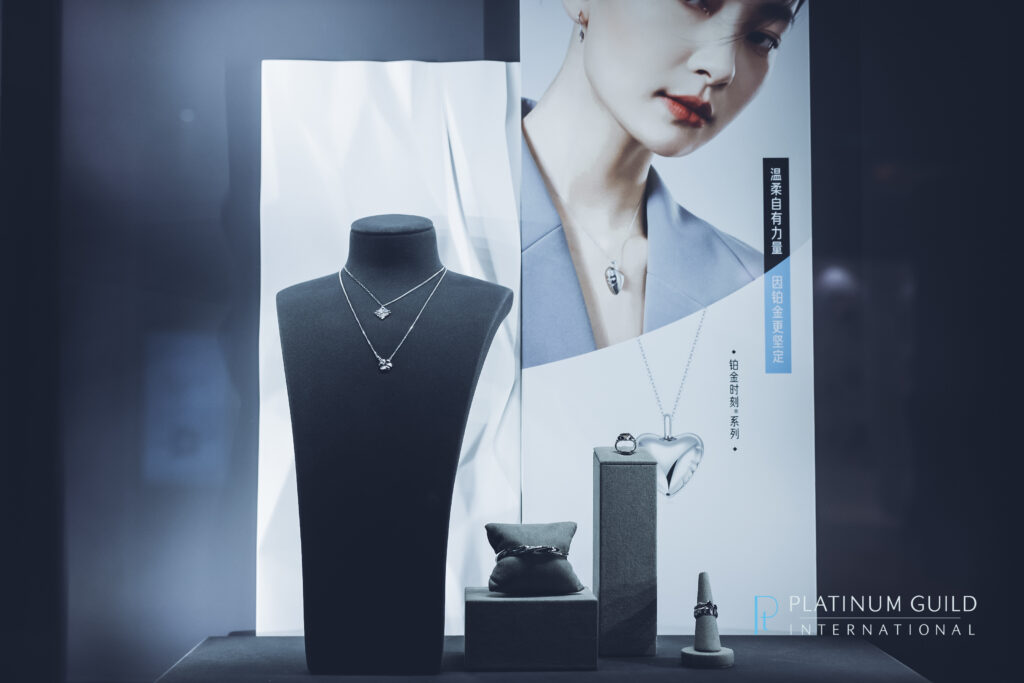 Pt Moment Collection – "Timeless Moment"
Bringing romance to life through new platinum product techniques which make the pieces more tridimensional and lightweight, it breaks through the shackles of the ordinary and creates a strong visual impact with a minimalistic design.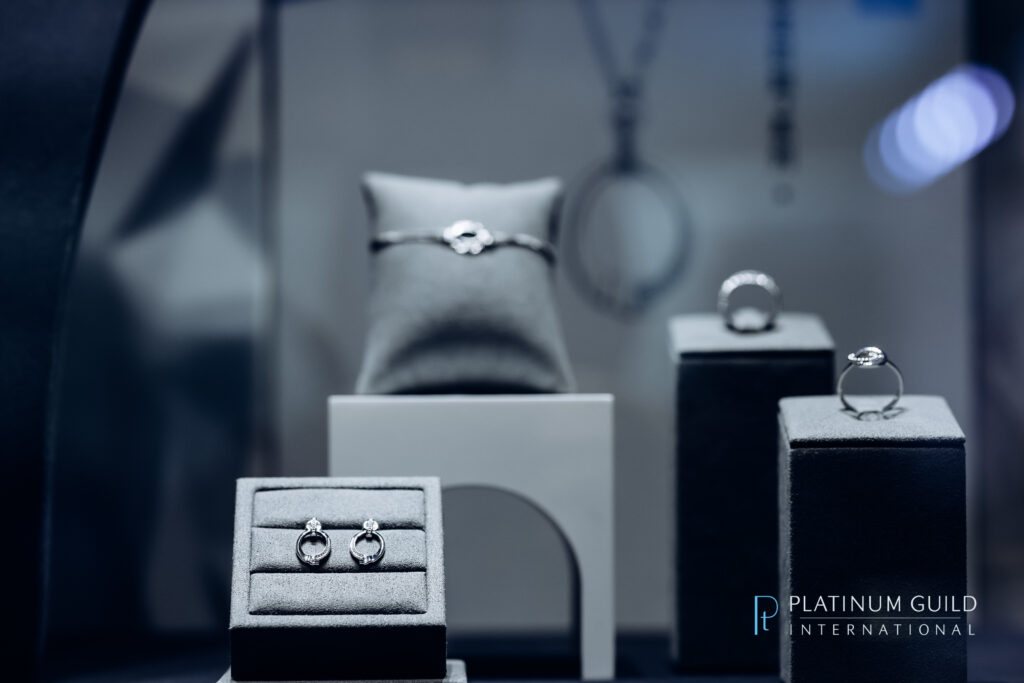 Pt Moment Collection – "Moment by Moment"
The abstract yet minimalistic style portrays a ribbon knot with tension, embellishing the wearer with delicate ribbons on her ears and neck that lend her a charming grace.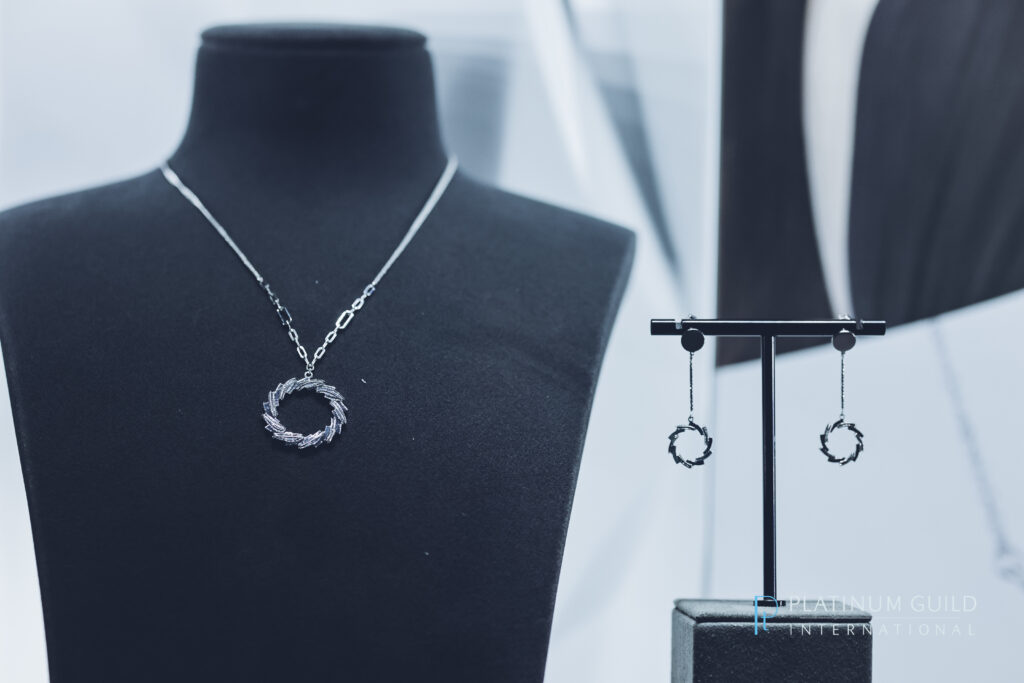 Pt Moment Collection – "Moment of Companionship"
Geometric overlaying to resemble ripples of water intersecting on the surface, the two textures lend a rich layered feel to the piece, exuding the beautiful combination of gentleness and strength, and portraying yet not defining the characteristics of modern women.
Remembering the past yet keeping in mind the present as we look forward to the future, PGI shared with guests details about its growth and achievements in 2022, as well as various dimensions about the Pt Moment 2023 collection, including its market positioning, new trends, and channel promotion support. From looking back at its achievements to discussing new market trends, and from new product launches to the sharing of success cases, PGI hopes to drive the platinum industry in a healthy growth direction through this conference, thereby realising new breakthroughs in the market and fully equipping its partners to jointly build a glorious future for the industry.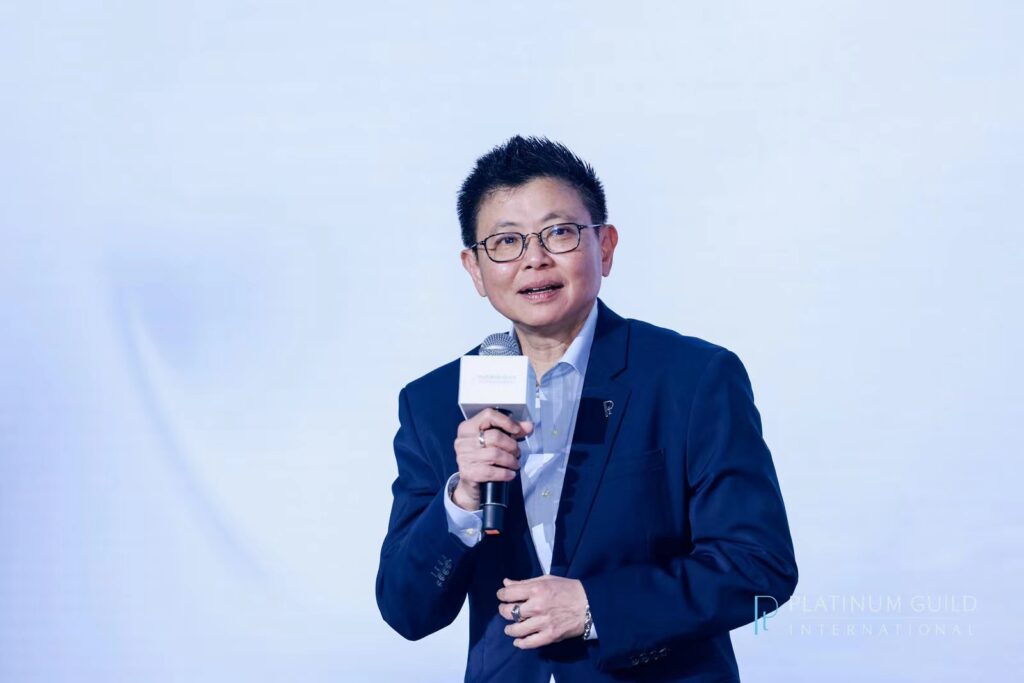 Pui P. Poon, Managing Director of PGI China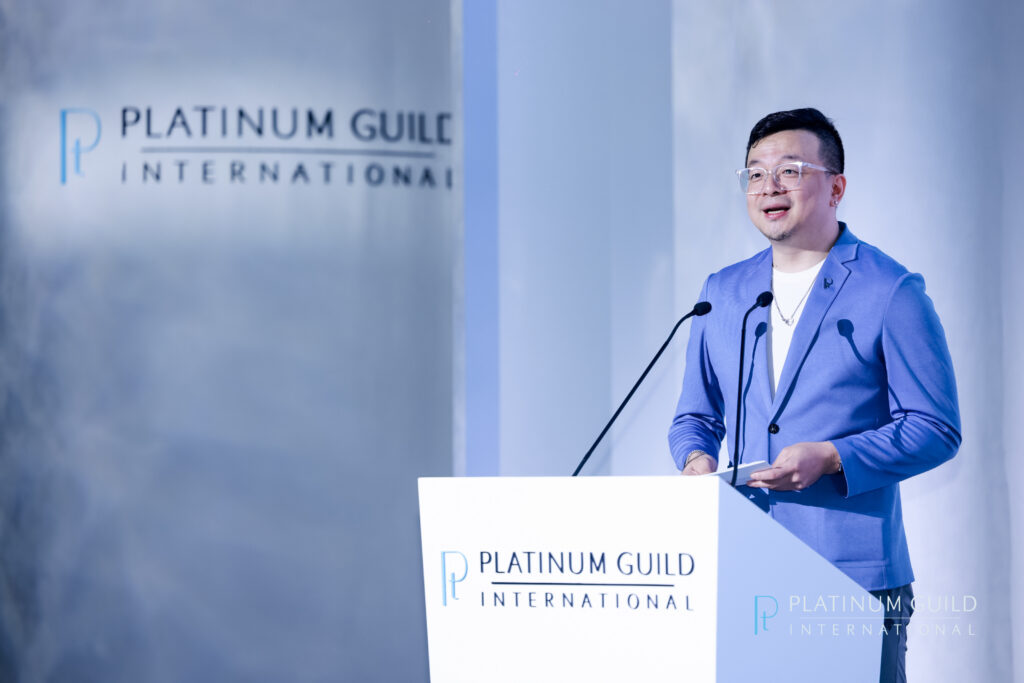 Alex Ye, Director of Trade Marketing and Development of PGI China
PGI prepared a visual feast for its guests, including laser shows that employed flashing lights and shifting shadows to present novel aesthetics, a brilliant treat to the eyes which also portrayed the co-existence of strength and elegance, thereby conveying a feminine spirit of women bravely breaking through predetermined boundaries. To thank its partners for their outstanding contributions to the platinum industry over the past year, PGI presented three major awards to its outstanding partners, which are "2022 Pt Moment Outstanding Training Brands", "2022 Pt Moment Retail Stores with Outstanding Contribution" and "2022 Pt Moment Jewellery Brand with Outstanding Promotion", effectively hyping the atmosphere at the conference to another exciting climax.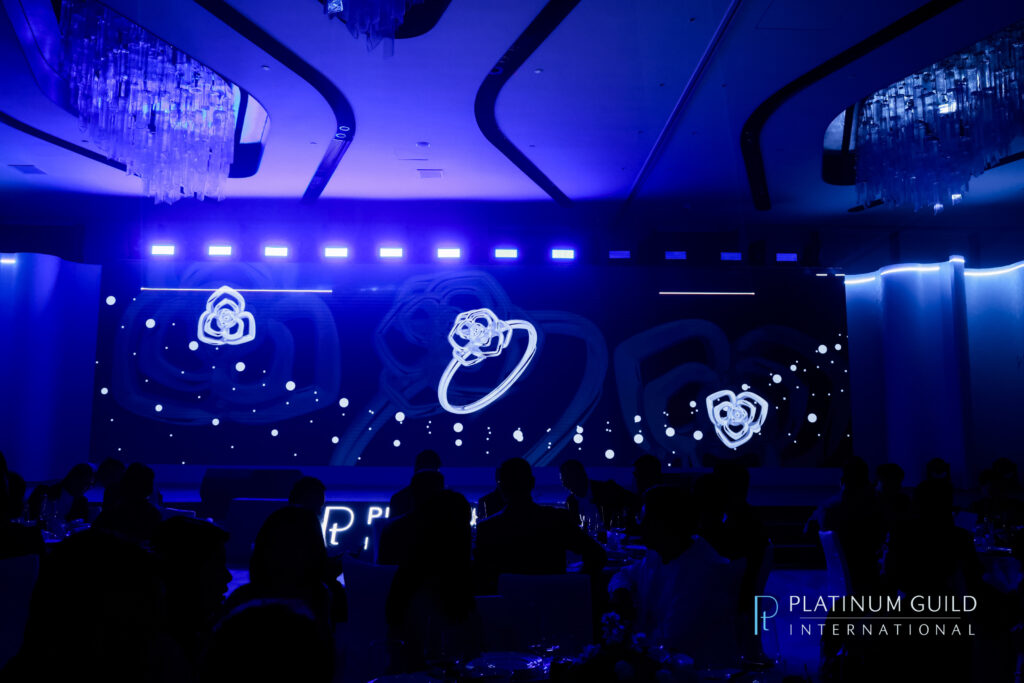 Laser show
2023 Platinum Jewellery Buyer & Seller Meeting · Spectrum
On 28 March, PGI held its 2023 Platinum Jewellery Buyer & Seller Meeting · Spectrum in Shenzhen, where PGI joined hands with 15 renowned jewellery manufacturers to present a wide array of original platinum jewellery pieces. With creative designs and revolutionary techniques as the drivers to further convey the tenacious beauty of platinum jewellery, PGI hopes to help its partners seek out new opportunities and expand into new businesses. Representatives of major domestic manufacturers gathered during the meeting to share their efforts in techniques revolution and comprehensive deconstruction of product design philosophy in platinum jewellery including material enhancements, technique upgrades and multi-material applications. A live-streaming conference was open for all partners passionate about e-commerce live-streaming to share their past experiences, discuss trends in 2023, share experiences in the online marketing of platinum jewellery and explore new pathways for building digitalised marketing systems.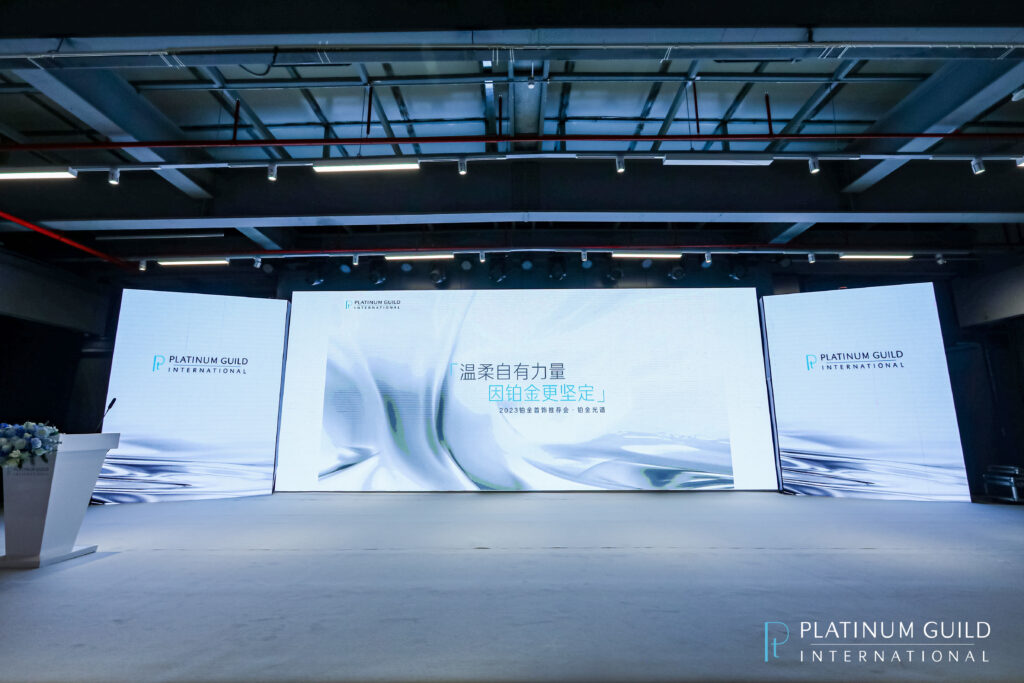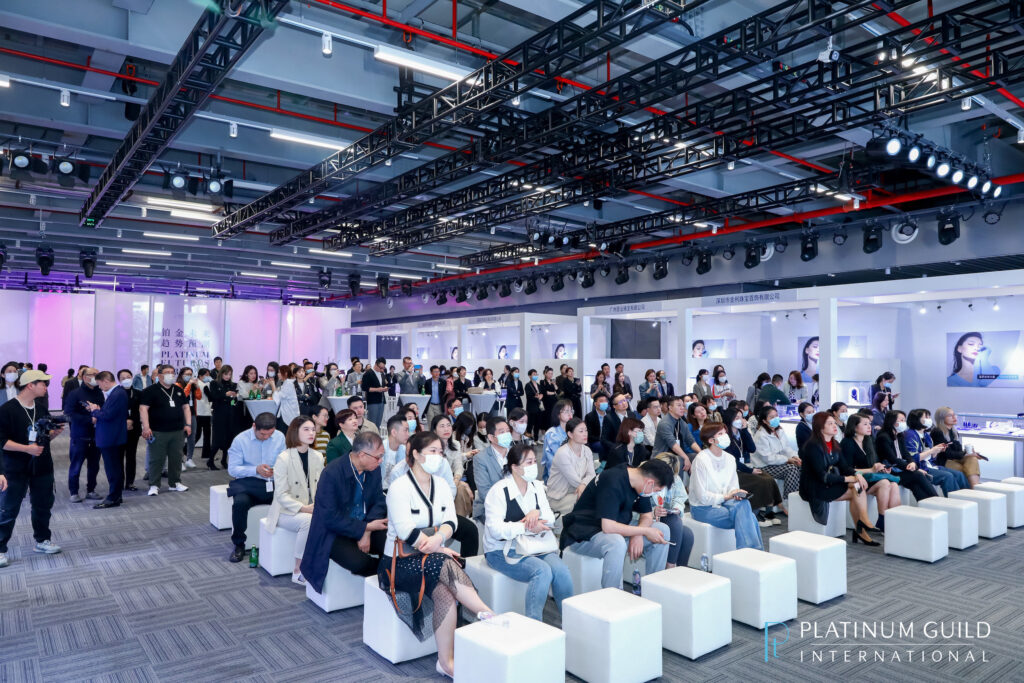 2023 Platinum Jewellery Buyer & Seller Meeting · Spectrum Venue
The 2023 Design Spectrum area was carved out at the venue, serving as a professional platform for platinum jewellery design. "Inspire to Innovate" has always been a motto etched into the DNA of the platform, as it aims to gather all the design strength in the platinum industry. Sparks of inspiration and ideas flew on this platform, bringing new excitement to China's platinum market. The immersive exhibition space at the site was divided into three themed areas based on the three inspiration trends of platinum jewellery design: "Gothcore", "Romantic Rebel" and "Virtual Star". Each area was marked by a different colour and their respective styles, inspirational videos and design elements were projected on translucent drapes. Various pieces of exquisite platinum jewelleries were displayed on suspended display cabinets, further enhancing the artistic beauty of the pieces.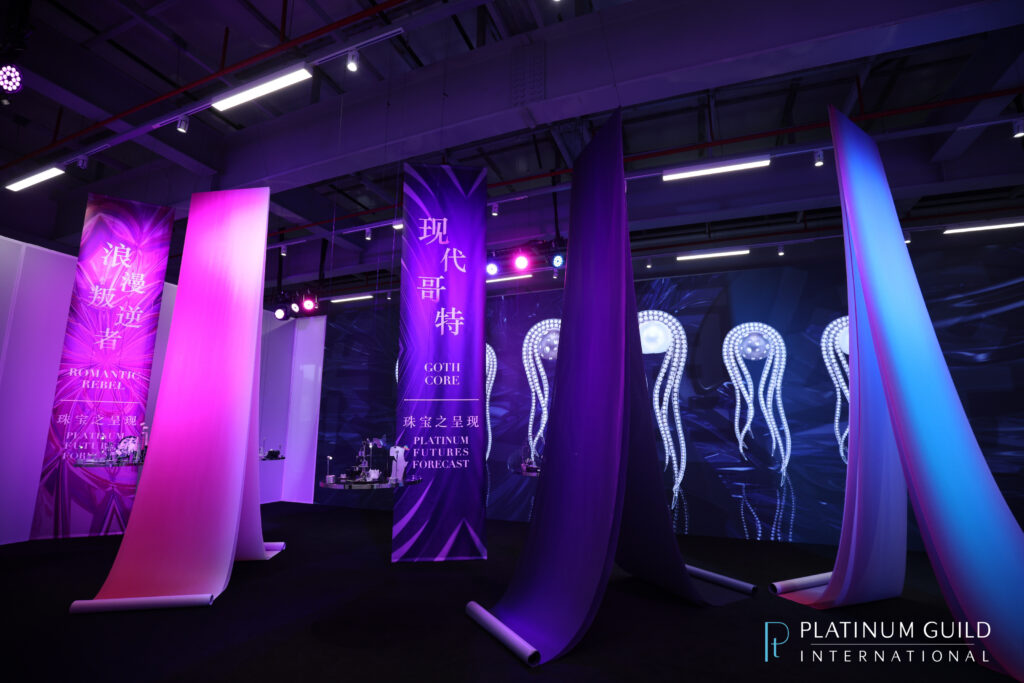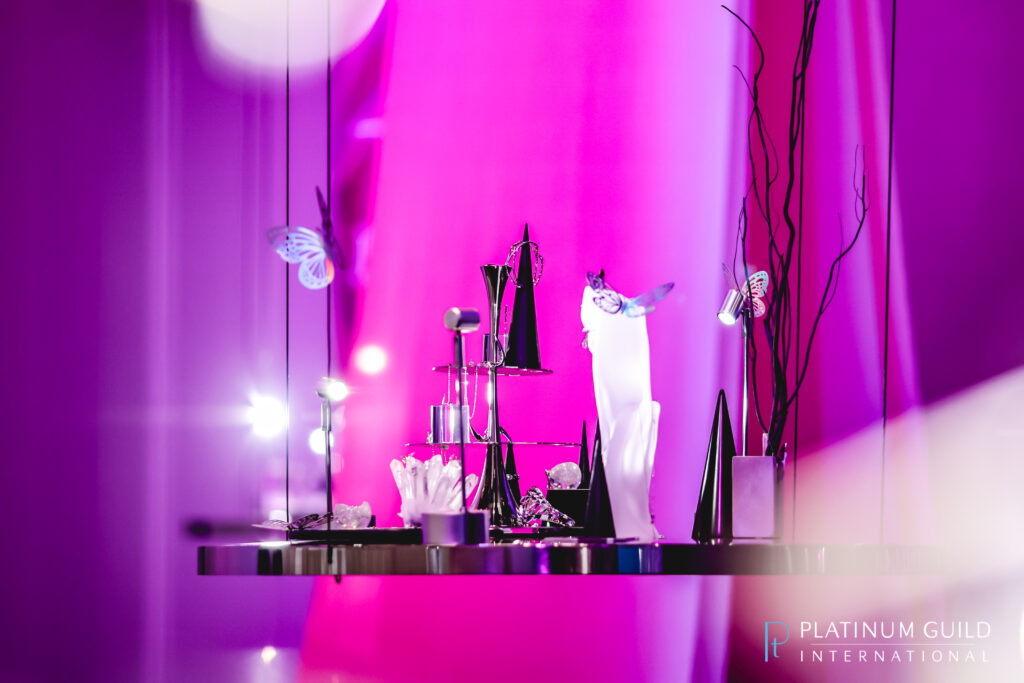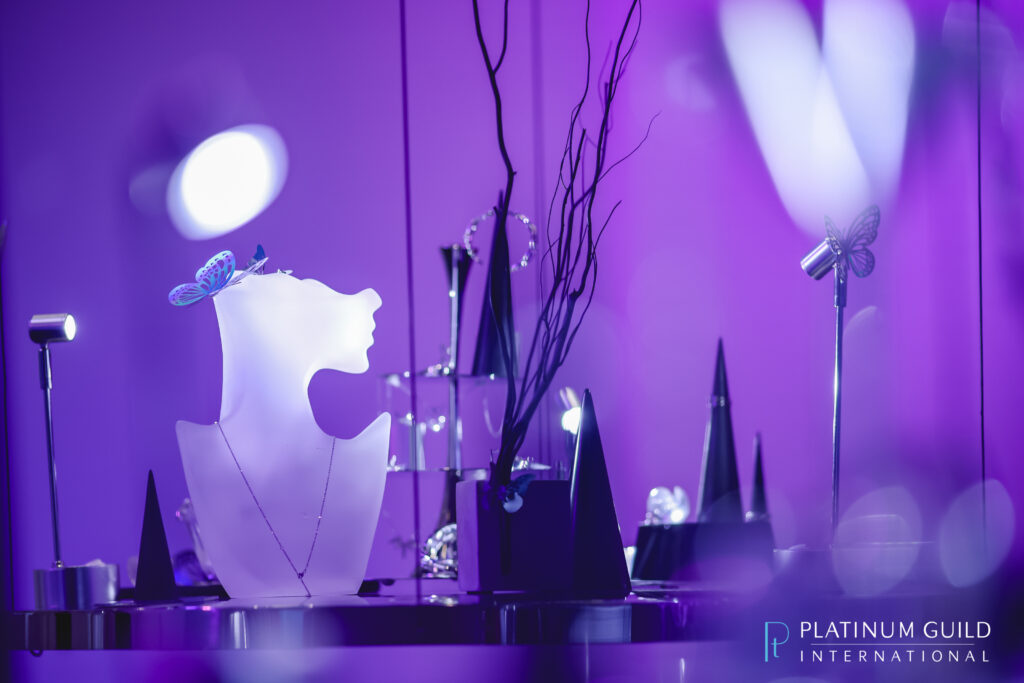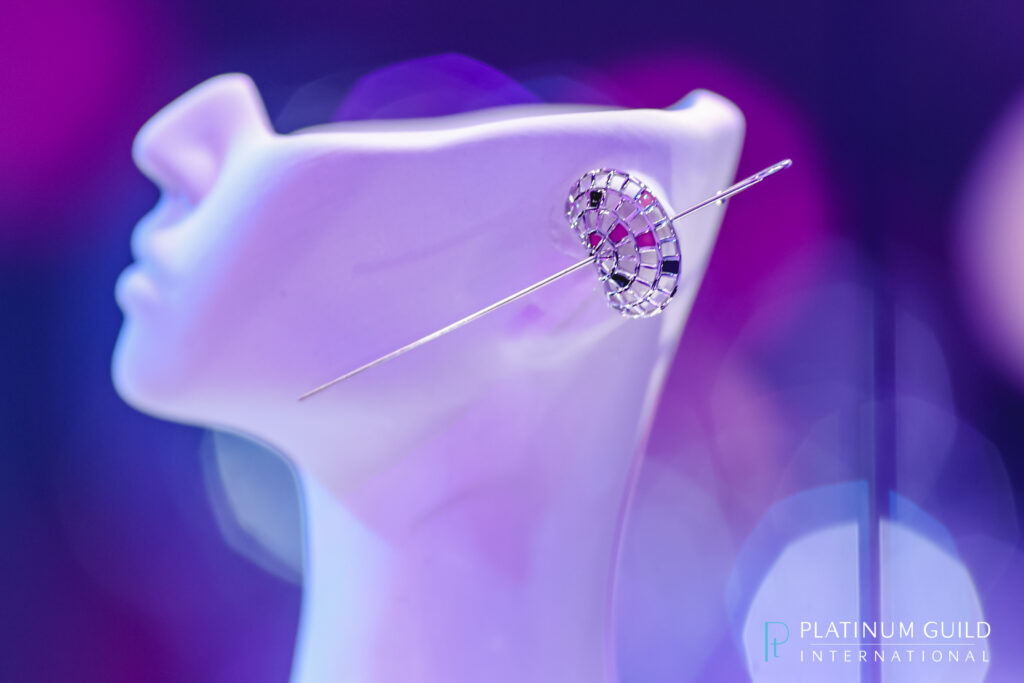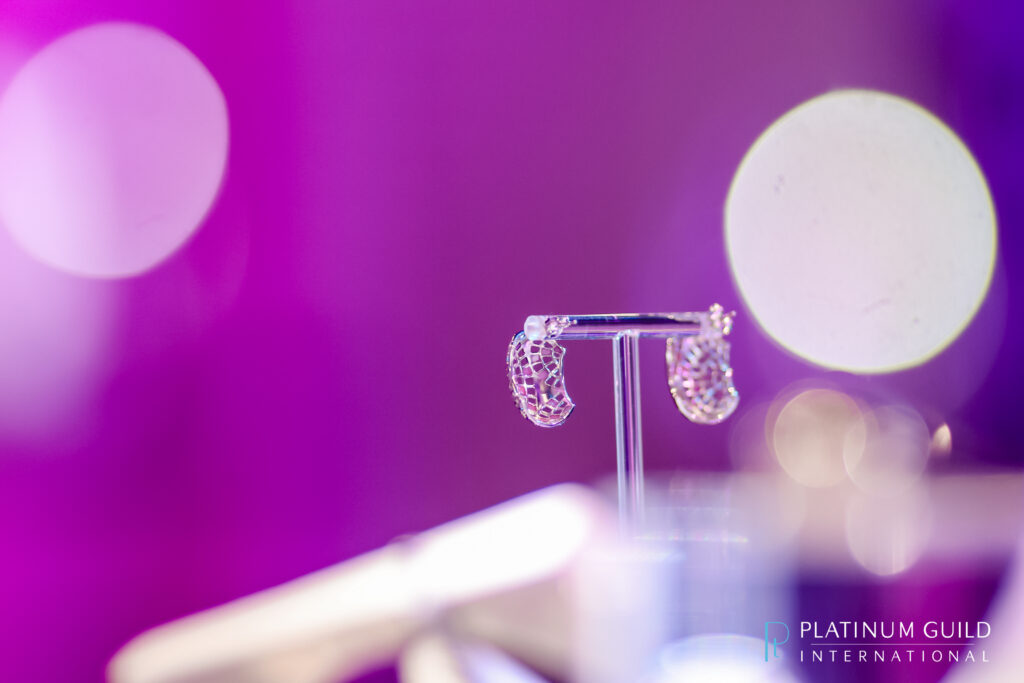 Design Spectrum
The Pt Moment 2023 New Product Launch Conference effectively served as a platform for PGI to share its accurate insights into its female consumers' ever-changing emotional needs, and set an industry example for retail partners regarding branding and product marketing. The two-day gala event has been a powerful driver for creative development in the platinum industry, with partners from various fields exchanging the latest design trends and the most advanced techniques, equipped with insights into industry growth in stabilisation and innovation. As a pioneer of the industry, PGI looks forward to continued collaboration with industry partners and bringing multi-dimensional, innovative and aesthetic product experiences to consumers, thereby jointly empowering and driving the platinum industry towards greater heights.