PGI China Hosts the 2021 Platinum Jewellery Forum in Shenzhen
Platinum Guild International (PGI) China hosted the 2021 China Platinum Jewellery Forum on 28-29 December in Shenzhen, China. The two-day event, including a business forum, platinum jewellery exhibition and technical forum, brought together a constellation of industry experts, leading jewellery retailers, wholesalers, manufacturers, and representatives of other related industries. The forum's speakers and participants shared insights into brand upgrades, technological innovations, content marketing and trend shifts and other topics related to China's platinum jewellery industry, and exchanged ideas on new opportunities and new industry trends.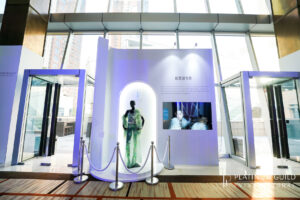 2021 Platinum Jewellery Forum
Platinum Jewellery Business Forum – Creating New Opportunities Together
Apart from the main hall, PGI showcased achievements over the past year in various exhibition areas, such as the Pt Moment collection and masterpieces of vintage platinum jewellery.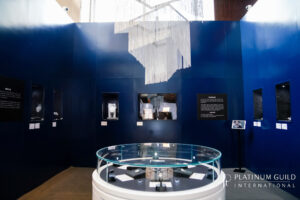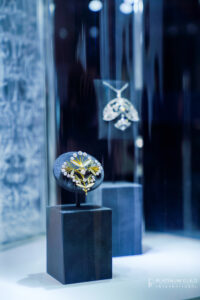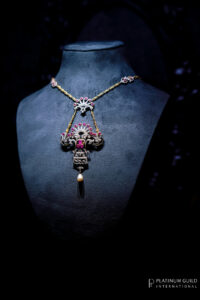 La belle époque exhibition pieces
This forum was attended by many honoured guests. In addition to PGI CEO Huw Daniel, who attended remotely and expressed his optimism for the future in his opening speech, other attendees and speakers included PGI China Managing Director Pui P. Poon and the rest of PGI China's management team, as well as Chancellor of NGTC Education, Xu Jun, and Deputy General Manager of The World Trade Plaza of Wushang Mall, Kong Ming, as representatives of PGI's partners in China.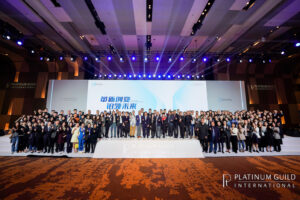 Attendees of the 2021 Platinum Jewellery Forum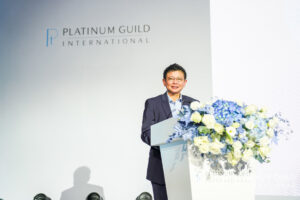 Pui P. Poon, Managing Director of PGI China
As younger consumers become the biggest segment of jewellery shoppers, their ever-changing preferences for platinum jewellery have brought greater diversity to the market. Grace He, Market Intelligence & Planning Director of PGI China, inspired the audience with insights from an in-depth white paper about precious jewellery consumption trends among Generation Z consumers in China. With an eye on new lifestyle habits of younger consumers, the report analyzed how those trends influence their diversified and individualised preferences for precious jewellery, and how to develop a customized marketing strategy to improve the consumer experience and achieve growth. Tai Wong, Innovation & Product Development Director of PGI China, reviewed the progress of platinum technological developments over the past year. PGI has already made major contributions to content creation and dissemination in the areas of platinum technology and design through Spectrum workshops, the launch of the PlatinumABC platform, and by releasing content related to technology as well as design trends on its official WeChat account.

PGI speakers at the Forum
As one of the partner speakers, Xu Jun explained the training ecology for jewellers and called for further improvement to provide strategic support for the high-quality development of enterprises in the new environment.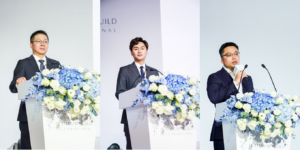 Partner speakers at the Forum
Ming shared some of Wushang's successful targeted marketing campaigns in 2021, and analysed the methodology behind adopting a more comprehensive approach to strategic planning. He also spoke of how various joint initiatives between Wushang and PGI China have brought greater consumer choices in platinum products as well as an array of other benefits, boosting the platinum jewellery market in Wuhan and Hubei Province overall.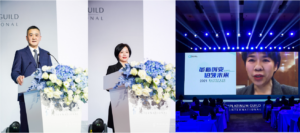 Partner speakers at the Forum
Platinum Jewellery Exhibition – Design Innovation as the Driving Force for Stimulating the Potential of the Consumer Market
At the Platinum Jewellery Exhibition, PGI China together with its partners brought many original platinum products that revealed industry trends. In the Spectrum area, alongside original jewellery pieces from 16 renowned jewellery makers, PGI also presented new products from its Pt Moment collection, which were innovative in shape, material and form. Video interviews with designers were presented on the interactive mood boards to unveil the artistic journey behind the creation of platinum jewellery. Live streaming of these interviews allowed partners unable to physically attend the event to explore the design inspirations and innovative craftsmanship behind their creations.
Representatives from Bofook and other manufacturers shared the innovative designs of more vivid and delicate jewellery facilitated by technological innovations, process improvements, and multi-material applications, all aimed at stimulating the consumer market. Attendees were highly appreciative of these innovative measures and held discussions about the development of platinum jewellery in the future.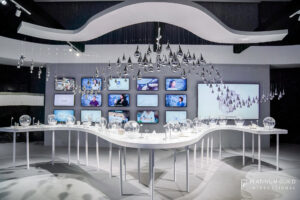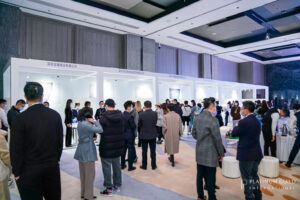 2021 Platinum Jewellery Exhibition
Platinum Jewellery Technical Forum – Expanding the Platinum Industry Through Technological Innovation
With industry competition set to increase, how to better lead innovation and growth in the platinum jewellery industry has been a perennial theme for PGI and other industry players. The Platinum Jewellery Technical Forum invited leading figures from the industry to discuss a myriad of technological, procedural, and material-based strategies for encouraging the commercialisation of cutting-edge scientific and technological achievements in the platinum industry.
Tai Wong, Innovation & Product Development Director of PGI China, introduced three major innovations in platinum technology during 2021, electroforming and 3D printing, while Jin Yingjie from ITP Co., Ltd. shared the latest research results on vacuum-melting of platinum alloys. Dr. Li Nana, Shenzhen Sunshine Laser & Electronics Technology Co., Ltd. further elaborated on laser-polishing system solutions.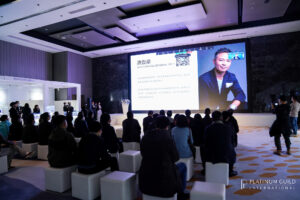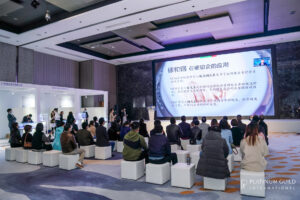 Platinum Jewellery Technology Forum
This year's forum provided attendees with a broad platform, bridging one another and introducing more advanced craftsmanship and designs to the platinum jewellery industry. In addition, it also facilitated the sharing of industry analysis and visionary ideas to improve the current consumption environment and the industry structure. As a forerunner in the platinum industry, PGI is dedicated to making platinum the jewellery category's premier innovator. To achieve this, PGI will strengthen its collaboration with partners and work together to build a better future for China's jewellery industry.