PGI China's Innovative Spirit Shines at China International Consumer Products Expo 2022
In July 2022, Platinum Guild International (PGI) China showcased the fruits of its innovative culture at the 2nd China International Consumer Products Expo 2022 (CICPE 2022). Whether focused on developing a brand proposition that's in tune with young consumers, forging highly synergistic alliances, or adding value to the industry in other ways, these achievements reflect the strength of its innovative team, expertise and industry-wide network. PGI China views CICPE 2022 as an important platform to explore new collaborations as it strives to cement its role as an invaluable partner for the jewellery industry in driving growth and innovation.
At this high-profile consumer goods exhibition, PGI's area was designed in a 360-degree open format to seamlessly accommodate three zones of the 2022 Pt Moment® collection, a global brands section and a vintage platinum jewellery display. These zones showcased the beauty of platinum jewellery in the past as well as the present, demonstrating the dynamism of platinum jewellery to potential partners interested in breaking new grounds in the jewellery industry. PGI also leveraged VR technology to share the latest updates of CICPE 2022 via the "Snapshots of the CICPE" section on its WeChat account, bringing an immersive virtual experience to platinum jewellery enthusiasts who were unable to attend in person.
Distinguished guests included the President of Gems & Jewellery Trade Association of China (GAC) and President of National Gems & Jewelry Testing Co., Ltd (NGTC), Zhibin Ye; Deputy President and Secretary-General of GAC, Lijun Bi; Deputy Secretary-General of GAC, Zhuangli Wang; Deputy Secretary-General of GAC and Director of the Hainan office of GAC, Likui Zhang; Deputy Director of the Hainan office of GAC and Haikou Peace Base Industry Development Co., Ltd., Baojun Zhang; Chief Engineer of NGTC, Jun Zhang; General Manager of NGTC Education & Technology Shenzhen Ltd., Jun Xu; and Vice General Manager of NGTC Education & Technology Shenzhen Ltd., Xiaohong Xu.
Monica Guo, China's first female longboard surfing champion, and her husband Anton Efimtsov added celebrity sparkle to PGI's exhibit. Ms. Guo and Alex Ye, PGI China's director of trade marketing and development appeared in a live stream hosted by People's Daily to launch the 2022 Pt Moment collection. During the livestream, Ms. Guo spoke of her passion for surfing, her collaborations with the brand Pt, and the deep resonance between her values and those of Pt Moment.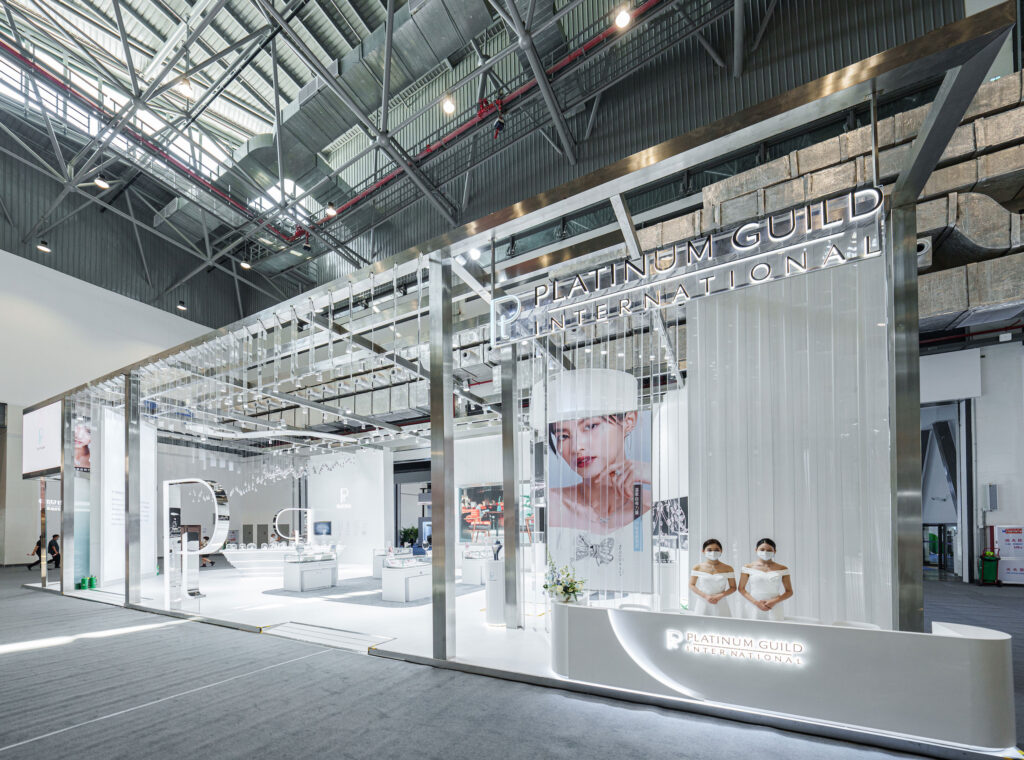 PGI China's exhibit in CICPE 2022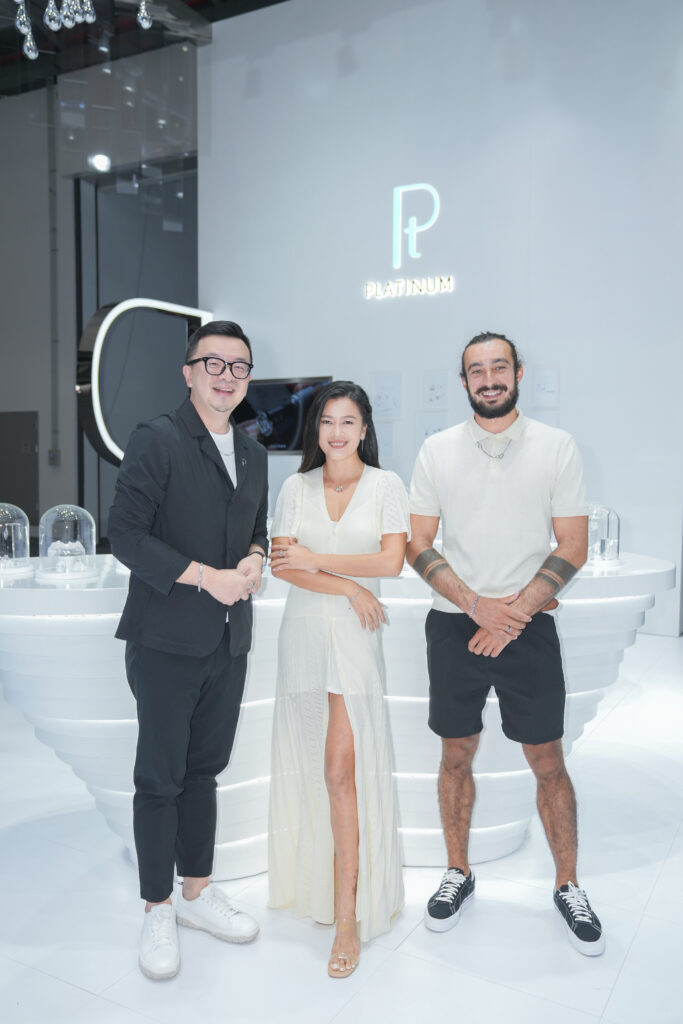 Alex Ye, Director of Trade Marketing and Development of PGI China
Monica Guo, and Anton Efimtsov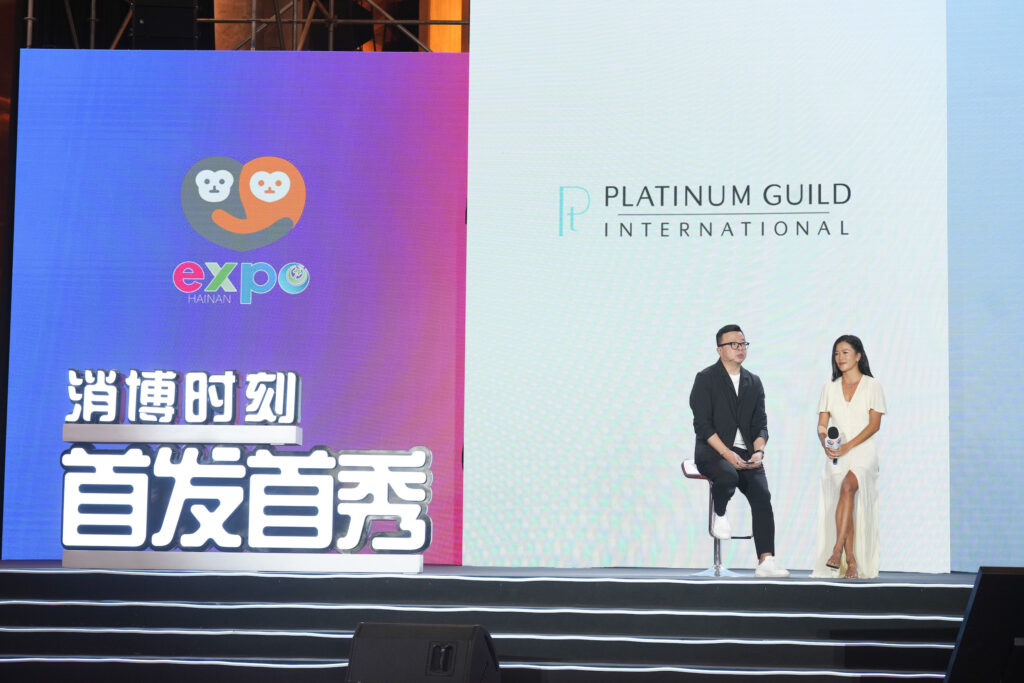 Alex Ye and Monica Guo at the launch of 2022 Pt Moment collection
in a live stream hosted by People's Daily
"Pt Moment" increases the accessibility of the branded collection strategy for jewellers
The 2022 edition of Pt Moment introduced more new platinum jewellery pieces with novel designs based on its slogan of 'Tenacity powered elegance', which has strong appeal amongst young women. It's a flagship programme created by PGI to increase the accessibility of branded collections to retail partners and consumers. PGI has championed the branded collection strategy for platinum jewellery since 2019, as part of its overall support for the industry. In 2021, PGI saw sustained growth in the volume and quality of branded platinum jewellery for various occasions such as bridal, gifting, and self-purchase among pieces for women, men and unisex. PGI also provides support across design, technology, and sales activation to its partners to drive sustainable growth of their platinum business as well as building the visibility and relevance of platinum jewellery amongst consumers.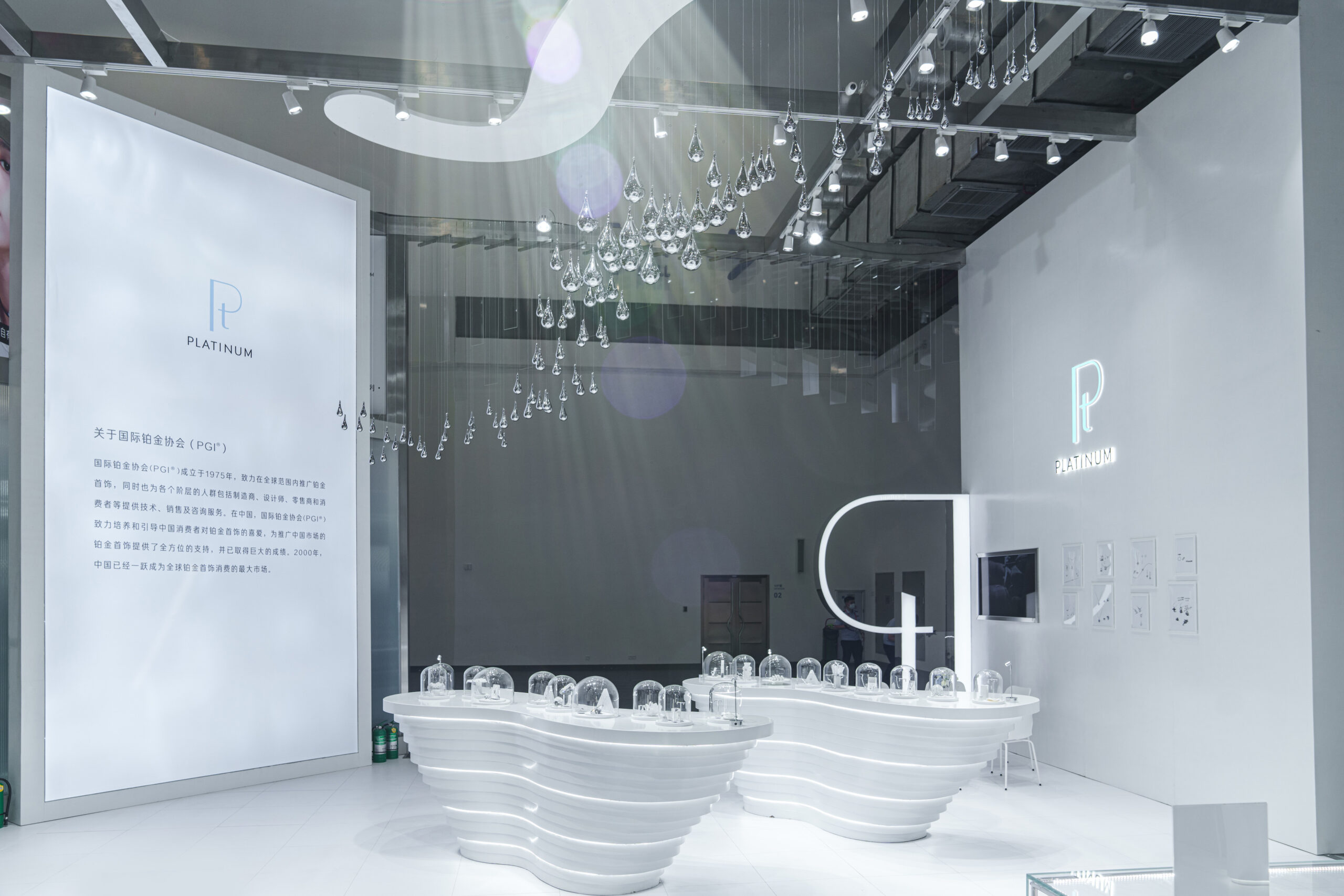 2022 Pt Moment  collection on display
Building winning alliances to drive multi-dimensional industry development
Since the early 2000s, PGI has built winning alliances with and between key players in China's jewellery industry to promote the overall development of platinum jewellery, and two such alliances were highlighted at CICPE 2022. One was the international brands section that featured the Japanese wedding ring brand, I-PRIMO, and the world-renowned online diamond jeweller, Blue Nile. This section showcased the beauty and durability of platinum in contemporary pieces with innovative designs. The other was the platinum vintage jewellery section put together by NGTC Education and PGI that showcased platinum's heritage and long-established reputation, particularly through the top attraction at the exhibit, the "Chaumet emerald diamond platinum crown" created in the Edwardian era circa 1910.
Amid the dazzling visual spectacle at CICPE 2022, PGI continued to nurture new partnerships through its experience, expertise, and innovation in ensuring the platinum jewellery industry continues to thrive.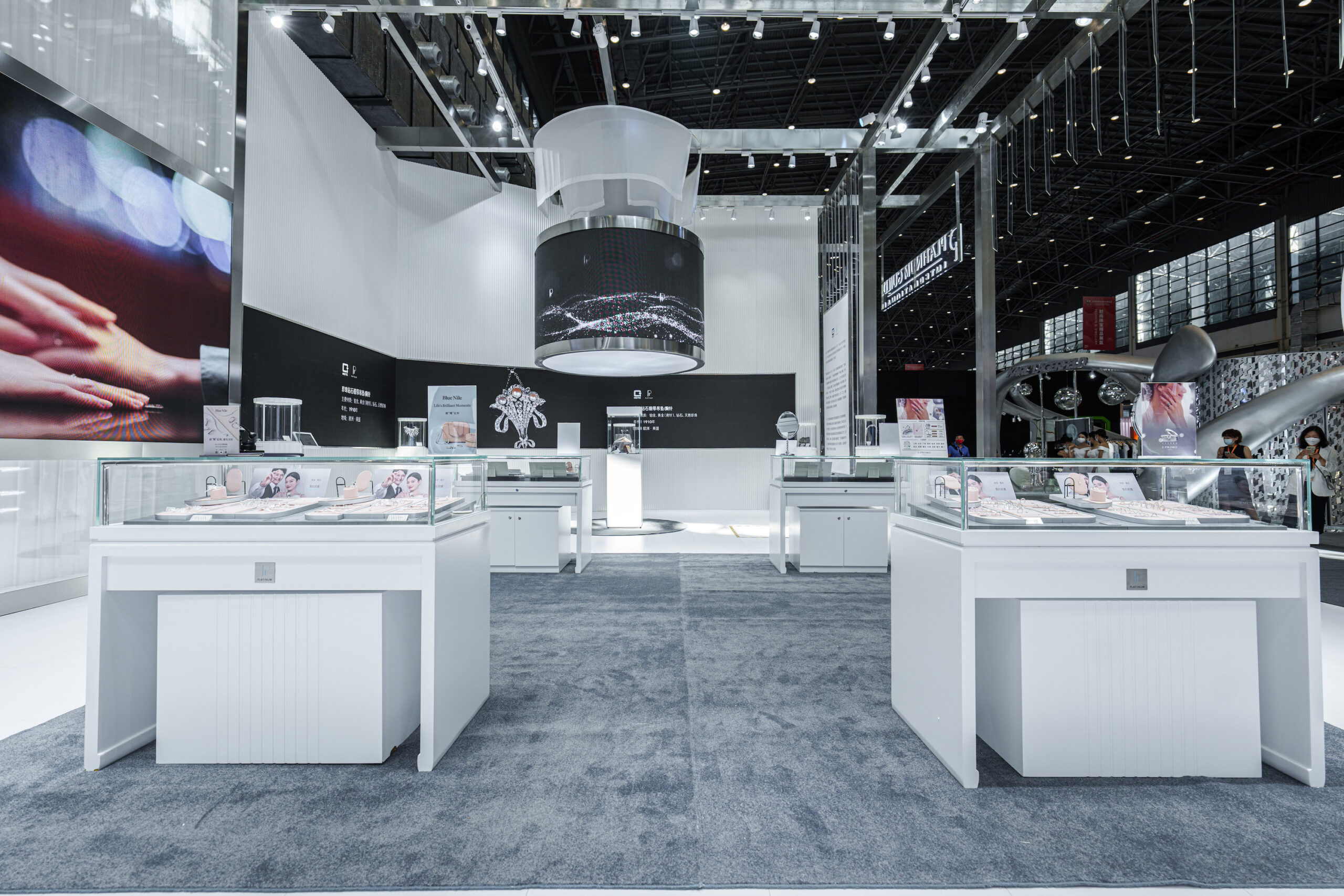 PGI exhibit – I-PRIMO and Blue Nile platinum jewellery counters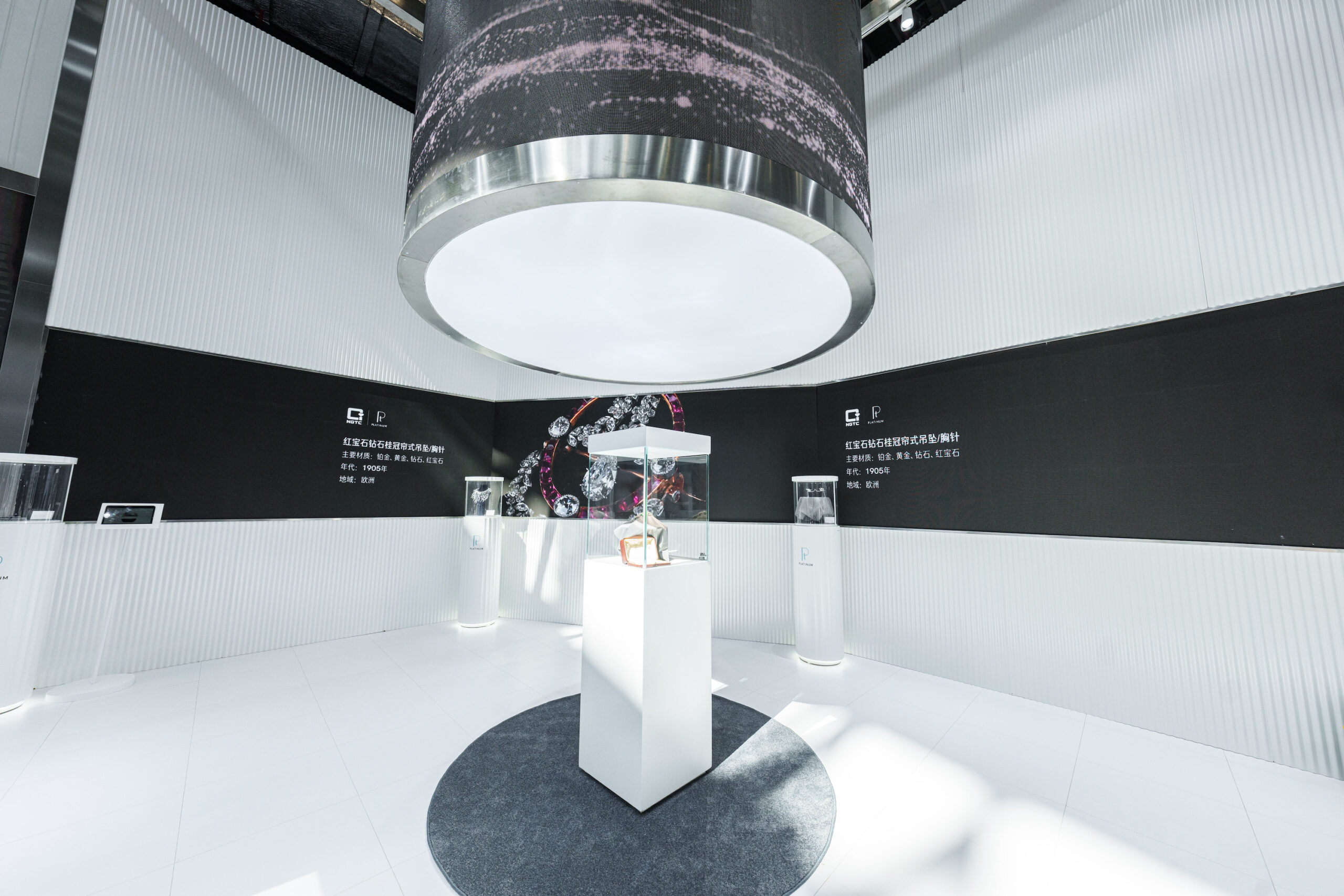 Exclusive platinum vintage jewellery zone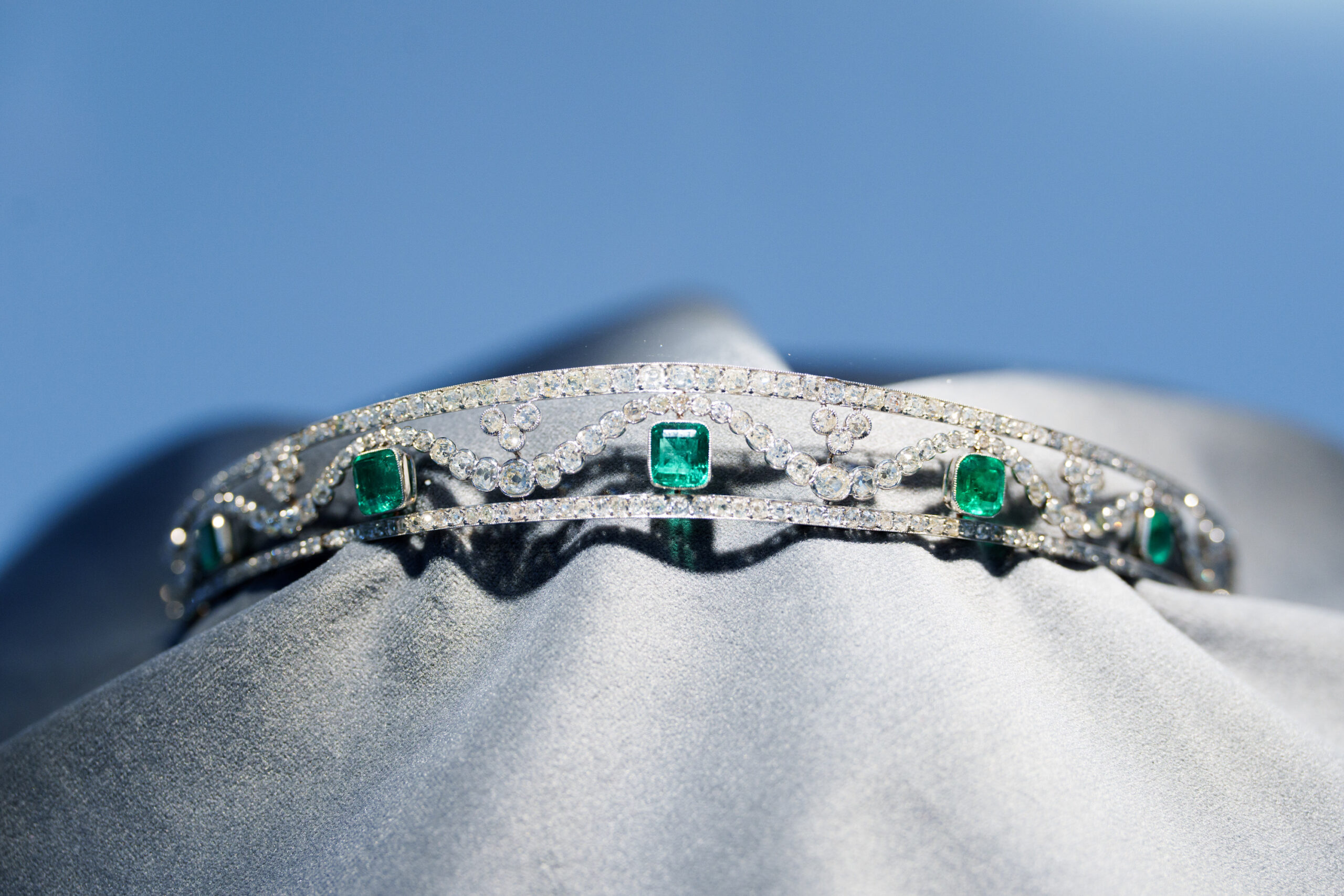 A featured piece from the exclusive platinum vintage jewellery zone – Chaumet emerald diamond platinum crown