This Women's Day, Platinum Evara Celebrates Women Leaders with #SheLeadsWithHeart
(8 March 2021) Mumbai, India - To say that 2020 forced a lot of introspection and brought about much disruption would be an understatement. It left every facet of our lives open to change. Those in leadership included. There has been a resounding call to re-evaluate what makes for a good leader. It has meant a shift away from the autocratic leadership style of the past and the embracing of a more collaborative approach. 
In this VUCA world identifying and nurturing the right values is of utmost importance. Attributes of resilience, empathy, compassion, integrity and inclusivity have taken centre stage, replacing codes of an unyielding leadership style. In these times being inclusive and carrying people along, having empathy and listening to people, looking at things from their perspective, being compassionate and placing people at the heart of any structure, rising resilient in the face of adversity and acting with integrity by keeping one's values at the core of what they do means more than it ever did. The recent past has in fact showcased many women leaders who demonstrated these values leading their countries, organisations and families out of chaos.  The leadership style they championed is driven by the heart and has won the hearts of many.
This Women's Day, Platinum Evara pays an ode to women leaders who embody these values, who lead people in the right direction through tough times. Named #SheLeadsWithHeart, the platform brings the conversation on key ingredients of leadership today to the fore. It adds momentum to what many have written and thought about – can't leadership be strong and yet humane?
To emphasise the importance of leading with an empathetic and compassionate heart, Platinum Evara will be undertaking an extensive digital campaign comprising of a plethora of initiatives to bring the message of #SheLeadsWithHeart to life and honour women leaders across different fields. The brand has leveraged LinkedIn – asking women leaders who believe in the same philosophy to stand by in support and amplify this stance. In partnership with Livemint.com, Platinum Evara will also be curating a list of noteworthy words of wisdom from powerful women leaders in India who share this belief system and subscribe to these values.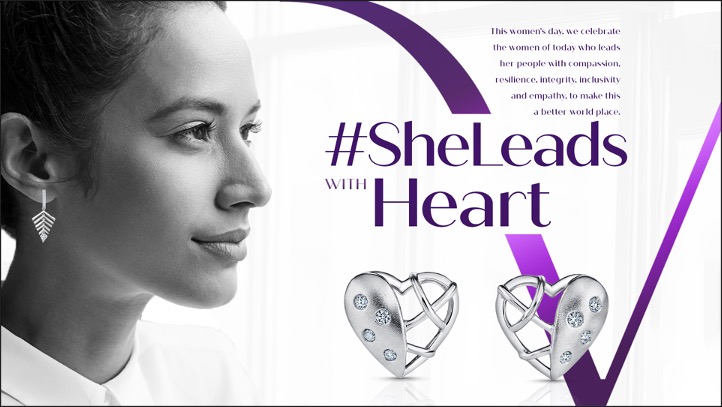 Speaking on the occasion, Ms. Sujala Martis, Director – Consumer Marketing, Platinum Guild International - India said, "Leadership with a heart at the start seemed like a very feminine form of leadership but it's one that the world has embraced and imbibed today. These values come instinctively to most women and we thought what better than women's day to mark them, to celebrate them. It sits in sync with what anchors us as a metal because a value system like this despite times is rare."
Find more about Platinum Evara: www.ptevara.in