PGI Japan Launches Platinum Woman in Collaboration with Leading Retailers
(30 October, 2020) Japan – Platinum Guild International (PGI) K.K, the marketing organization promoting platinum jewellery in Japan has launched a new platinum jewellery brand "Platinum Woman", in collaboration with Japan's leading jewellery brands. The products are available from 30 October, 2020.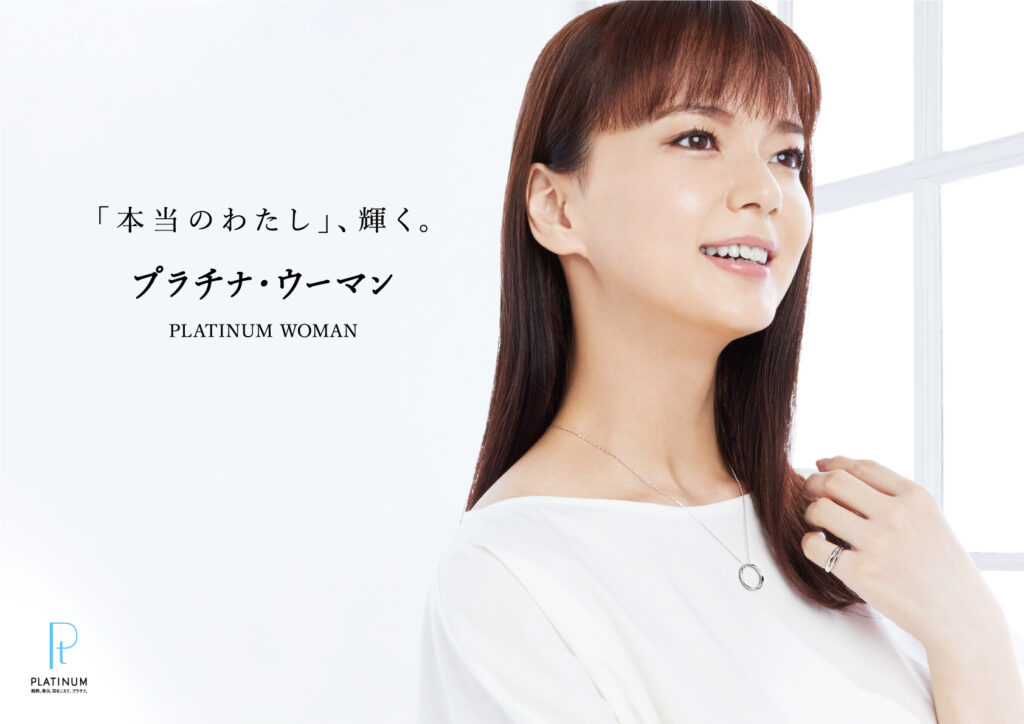 Brand Ambassador Mikako Tabe Wears Platinum Necklace & Platinum Pinky Ring
The new "Platinum Woman" brand encourages women to be true to themselves and illuminate their natural radiance. The platinum jewellery collection is now available from leading retail parters 4°C, Vendome Aoyama and Ginza Tanaka, as well as through the partner companies' online stores.
Pure, sophisticated and timeless, platinum illuminates the beauty of women who stay true to themselves. In this age of growing respect for individuality and appreciation of self-worth, the collection endorses the empowerment of women to find their own way of life through platinum jewellery that they can wear with confidence, any time and for any occasion.
Brand statement
My true self illuminated. Platinum Woman
 Walking unwaveringly, one step at a time
Towards finding happiness, true to who I am.
Sometimes I am insecure, sometimes discouraged.
Still, I look ahead, smiling.
Platinum's pure radiance
Gives me strength to persevere.
The collection's design concepts 
The Platinum Woman collection is based on design concepts that express a woman's inner sparkle through platinum that motivates her to forge ahead and reminds her of who she has always aspired to be. Characterized by sophisticated designs that are neither too assertive nor too simple, this is a collection of fine jewellery that completes her look for everyday or special occasions and can be used for many years to come.
About the Platinum Woman campaign
Platinum Women is PGI Japan's initiative to integrate social media and the retail partner's online stores to provide seamless access to affordable and meaningful platinum jewellery, while enabling those not familiar with platinum a chance to know this precious metal.
The brand ambassador is Mikako Tabe, a confident, self-assured actress who has garnered much recognition for her various roles. The brand movie and other contents are available on the official PGI K.K.'s website from 30 October, 2020.
For each purchase of the Platinum Woman collection, JPY 500 ($5) will be donated to an authorised NPO Katariba, by Platinum Guild International with its retail partners, to deliver hope to children who co-create our future.
For more details about the Platinum Woman collection, please visit here.